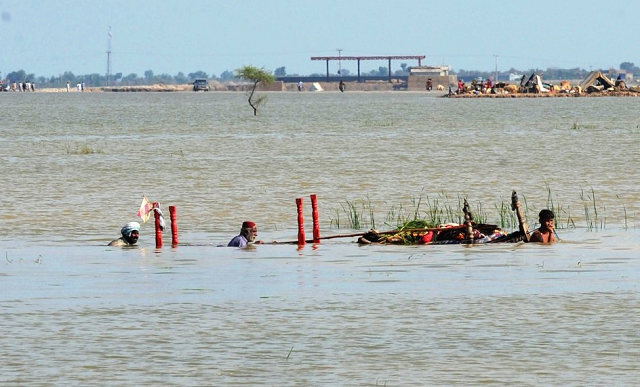 ---
QUETTA: The National Disaster Management Authority (NDMA) in collaboration with the Provincial Disaster Management Authority (PDMA) Balochistan organised a three-day Training and Simulation Exercise (SIMEX) on disaster risk reduction through preparedness and response planning.

The event was sponsored by Swiss Development Cooperation (SDC).
Training was conducted from October 23 to 25, 2018 at the Officer's Club, Quetta by the resource persons of the National Institute of Disaster Management (NIDM), an integral part of the NDMA.

Natural disasters: workshop spreads awareness about safety protocol

Thirty-five officials representing different line departments of the government of Balochistan, PDMA, District Disaster Management Authorities (DDMAs), UN agencies, academia, media and NGOs participated in the event.

NIDM Director General Brig (retd) Fiaz Hussain Shah, Senior Capacity Building Specialist Engineer Syed Muhammad Ayub Shah, Waseem Ahmed from NIDM conducted the SIMEX.
Dr Ainuddin Syed from University of Balochistan and Khalid Zaheer from World Food Programme (WFP) also delivered lectures.

Dialogue held to assess disaster preparedness in Balochistan

Training covered a host of related topics to complete the disaster management cycle besides important subjects like gender and child protection. The simulation exercise focused on disaster risk reduction was designed to make the participants practice all imparted concepts. A great deal of engagement by the participants made the endeavour successful.

SIMEX concluded on October 25, 2018. PDMA Deputy Director Naveed Ahmed was the guest of honour at the closing ceremony.
In his closing remarks, Ahmed thanked the federal government, NDMA and the SDC for arranging such important capacity-building training for the officials and civil society of Balochistan.

Flash floods kill 11 in Balochistan

He expressed hope that the NDMA and NIDM would continue to organise such events in the future as well.

In his concluding address, NIDM DG Shah thanked the PDMA Balochistan and the organisations of participants for their ownership and keen interest in the SIMEX.

He said, "Disaster management is not only a profession but a noble cause since it aims at saving lives and precious properties."
He expressed hope that such activities would contribute in making Balochistan a disaster-resilient province.

Balochistan launches school safety projects

Earlier, participants expressed great satisfaction and gratitude for being part of such an important training.

They emphasised the need for such training to be conducted frequently to build the capacity of stakeholders.

They highly appreciated the simulation exercise and its methodology which enabled them to understand concepts in a much better and practical manner. They also praised the role played by NIDM and NDMA in advocating for resilience and disaster preparedness.

Participants declared the training all-encompassing, much-needed, well-imparted and a wonderful knowledge-sharing endeavour with an aim of spreading the words to others for good of all and as a national service.
COMMENTS
Comments are moderated and generally will be posted if they are on-topic and not abusive.
For more information, please see our Comments FAQ