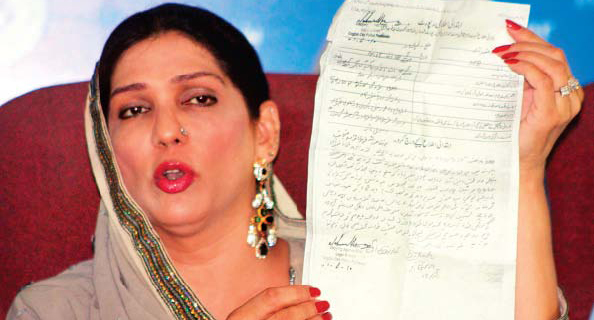 ---
PESHAWAR: The transvestite community here on Wednesday presented their own account of the May 24 incident in which police arrested a man and a transgender person for allegedly contracting marriage.

The transvestite community asked authorities to inquire into the incident.

Addressing a press conference at the Peshawar Press Club, President She-male Foundation Pakistan Almas Bobby said reports that Malik Iqbal and Rani had married were baseless. Bobby said the police had implicated Iqbal and Rani in a false case.

On May 24 officers from the Faqirabad Police Station had arrested 45 people including Kashif, also known as Rani, a resident of Shabqadar and Malik Mohammad Iqbal, from Dalazak Road area, saying that they were contracting marriage.

Police later produced them in court, where Kashif denied the charges, terming the arrest a conspiracy. 43 other people present at the 'marriage function' were released by the court, while Rani and

Iqbal are still in custody after a court rejected their bail application.

Almas Bobby denied the notion that Rani and Iqbal were about to marry and said that Rani and other members of the transgender community were tenants of Malik Iqbal, who allowed many transvestites to live in his plaza.

Bobby alleged that the Faqirabad Station House Officer (SHO) and another official, Gulzar, used to attempt to extort money from the transvestites but the latter were never willing to pay them any money.

According to Bobby, when the transvestites refused to pay the police off, the SHO Faqirabad called Iqbal Iqbal to the police station and asked him to expel the transvestites from his property within a week.

Iqbal said the transvestites were not creating any problems, but said the earliest he could expel them was in a month.

This did not suit the SHO and the police raided Iqbal's plaza on May 18, implicating Iqbal in a false case and registering an FIR against him.  According to Bobby, on May 24 members of the transgender community were celebrating Rani's birthday when police raided the party alleging that the function was a marriage ceremony

Bobby asked the Prime Minister, President, Chief Justice of Pakistan, Chief Justice Peshawar High Court, Chief Minister, and city police chief to initiate an inquiry into the incident.

Bobby said that the transgender community had been subjected to injustices for a long time, and were treated as if they were barely human.

Bobby alleged that the police took away money, mobile phones and jewelry from those arrested and had not returned the items.

Bobby asked for justice, stating that most transvestites in Khyber Pakhtunkhwa had migrated to other areas to escape threats.

Around a dozen transvestites carrying banners protested in front of the Press Club on Wednesday, chanting slogans in support of the transgender community.

Published in the Express Tribune, June 3rd, 2010.