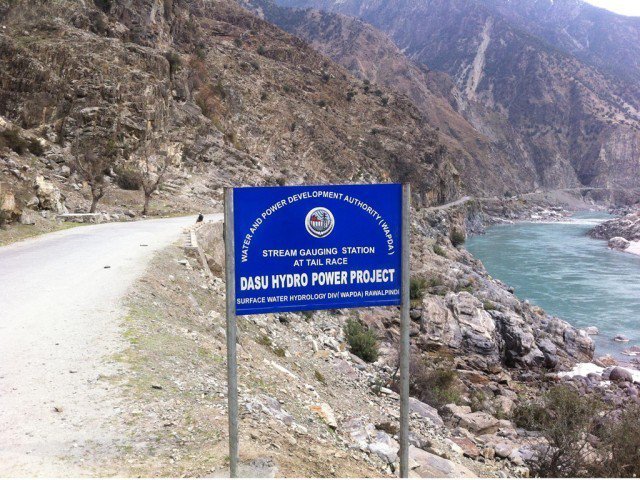 ---
ISLAMABAD: The World Bank has expressed serious concerns over years of delay in the construction work on run-of-river Dasu Hydropower Stage-I project warning that the $3.787 billion loan it approved for the project in June 2014 could get lapsed. The project was set to complete in June 2021.

"It was claimed [by previous government] that they had completed land acquisition for Dasu dam, but currently we have only seven per cent [or 740 acres] of land in hand as we require 12,000 acres," said Minister for Water Resources Faisal Vawda while addressing a press conference on Monday.

"The nation has to bear its [the delay's] fallouts and we have to resolve the issue," he added.

He said a meeting of the steering committee with the World Bank had been pending for the last many months. "Today after visiting the bank and discussing the issues, we held the committee meeting and cleared the NOC [no objection certificate] of the bank," he added.

The minister said the government had made a plan to work on the project on a war footing and was working for land acquisition, adding that all possibilities would be exploited to curtail the losses.

"We are incurring a Rs300 million loss per day on this project. The previous government always took steps that deprived the province [of Khyber Pakhtunkwa] of the benefits [of the project], received kickbacks and got the project delayed," he alleged.

PM intervenes to save $4.3b Dasu dam project

He said it was also an indirect impact of this delay that the country had to import the liquefied natural gas (LNG) of $1.4 billion, causing a loss of Rs112 billion per year to the economy. "These are indirect losses other than those of Rs300 million. We are working on strengthening our system," he said.

Vawda said the Pakistan Tehreek-e-Insaf (PTI) government had decided to complete the Dasu project on priority and would try to complete it by 2022-23, "as we are already two years behind the schedule".

"On November 6, we are calling a meeting in Peshawar and would resolve the Dasu dam issue. We need rectification for the losses we are facing in the water sector," he added.

Regarding the Indus Waters Treaty (IWT) with India, the minister said Pakistan was planning to address all the issue pertaining to the treaty in a very aggressive manner and hoped to resolve the issues soon.

Talking with reference to Darawat Dam in Sindh's Jamshoro district, he said it was completed at a cost of Rs11 billion. The feasibility was for construction on 25,000 acres of land but the dams was actually made on just 10,000 acres.

Water crisis in Karachi

Talking with regard to water crisis in Sindh and its capital, Vawda claimed that he had got demolished all illegal water hydrants in Sindh, whose government now says it is not the federal government's domain.

"The Karachi Water & Sewerage Board (KSWB) is involved in water theft. Landlords and politicians are also involved in water theft and they want to back out as I am exposing them," he added.

He said people in Karachi were compelled to purchase water. "Does this water come from the sky? It means that water is there, but is not being provided to the citizens," he added.

"We have written a letter to the KSWB for a meeting to resolve the issues, but the MD has no time to meet us, because he is getting Rs5 million per day as bribe," Vawda alleged. He, however, appreciated Sindh Minister Saeed Ghani for his support in controlling the illegal hydrants.

"They are trying to blackmail me and now they have started saying that I am dual-nationality holder. I am ready to present my three generations for accountability," he said.

He said people were exploiting provincial resources on the pretext of the 18th amendment. "There are many good clauses in the amendment but it is not a divine book. It should be open for debate and discussion to be [made] beneficial for Pakistan and its provinces.

There is need of readjustment," he said. He said no constitutional amendment or law could stop him from doing a right thing.

According to Vawda, the province gives Rs1 million to the federal government as fee while Rs880 million are overdue against the province under the head of electricity charges and others.

Closure of telemetry system

The minister said the previous government closed the telemetry system through verbal orders.

"To date, all these equipment are closed, which is an eye-opener for Pakistanis. Now, nobody is able to know how much water a province is extracting from the system," he said.

"Despite having no money, I am ready to install telemetry system by generating funds. For this, we have proposed a task force and will take the chief minister and law-enforcement agencies on board," he added.