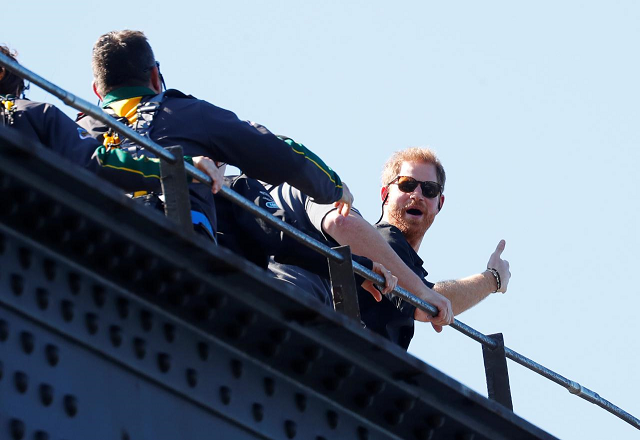 ---
SYDNEY: Britain's Prince Harry climbed Australia's Harbour Bridge on Friday, accompanied by Prime Minister Scott Morrison, during a royal tour that broke with the staid routine of such events to involve the royal couple in a group hug on Bondi Beach.

Harry and Morrison smiled as the black, grey and yellow flag of the Invictus Games was hoisted on the Sydney landmark on the eve of the international paralympic event, founded by Harry for military personnel wounded in action, which runs until Oct 27.

Afghan war veterans prepare for battle at Invictus Games

"Well done, Harry. Fantastic for all the veterans," said Facebook user Angela Doggett on the social media page of the company that organizes the climbs. Earlier, Harry and his wife, Megan Markle, joined a group hug on Bondi Beach at an event organized by surfers to build awareness of mental health issues.

"Harry said each and every one of us will experience poor mental health at some stage in our lives," Charlotte Connell, one of the participants in the circle, told the Australian Associated Press.

Harry, who has said he sought counseling in his late twenties to deal with the grief of losing his mother Diana, served in the British Army and campaigns to provide mental health help for soldiers who need it.

The prince, wearing a garland of blue flowers round his neck, and Meghan one of pink, listened to speakers in the circle for a few minutes before the hug.

Harry, who wore khaki trousers and blue shirt, and Meghan, in an ankle-length striped dress, had kicked off their shoes to sit with members of community group OneWave, whose members wore brightly-colored shirts and flower garlands.

It attacks mental health issues using "saltwater therapy, surfing and fluro," a reference to the vivid clothing worn at the event.

Harry served in the British Army for 10 years, including two stints in Afghanistan, and now works with several charities, including supporting wounded soldiers. Along with his brother Prince William and his wife Catherine, Harry also set up a mental health charity.

Meghan Markle honours Princess Diana on her first royal tour

The royal couple, who occasionally clasped hands and posed with a surfboard, are on their first international tour since marrying in May. It will also take them to New Zealand and the South Pacific islands of Fiji and Tonga.

In a stroll on Bondi, the couple, who are expecting their first child in the northern spring, shook hands and posed for photographs with some of the thousands who turned out for the event, snapping pictures and video with their smartphones.
COMMENTS
Comments are moderated and generally will be posted if they are on-topic and not abusive.
For more information, please see our Comments FAQ