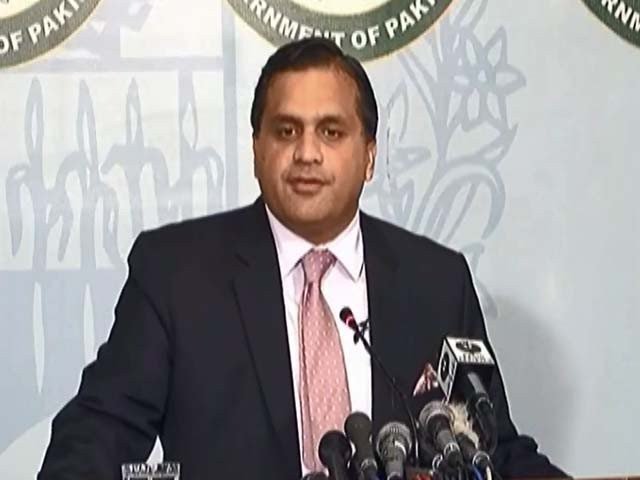 ---
ISLAMABAD: Pakistan on Thursday cautioned against the US forces' withdrawal from Afghanistan without first achieving the complete peace and security in the war-torn country.

"Pakistan has been reiterating that the US forces should stay in Afghanistan till the achievement of complete peace and stability," Foreign office spokesperson Dr Muhammad Faisal said at the weekly briefing.

"I would like to draw your attention to the chaos in the aftermath of the withdrawal of USSR [Union of Soviet Socialist Republics] in the late 1980s. The region cannot afford anything similar, at this time," he added.

Pakistan rejects unwarranted Indo-US allegations

The spokesperson's statement came in response to a question that whether Pakistan would support American troops' withdrawal from Afghanistan as demanded by the Taliban.

US President Donald Trump's point-man for Afghanistan and Pakistan Zalmay Khalilzad recently held talks with Taliban representatives in Doha.

Some media reports suggested that while both sides agreed to continue talks, Khalilzad expressed the US willingness to withdraw from Afghanistan.

When asked if Islamabad is ready to invite the ire of Taliban by opposing the withdrawal of US forces, the Faisal insisted that Pakistan is not afraid of anyone.

"The allied forces are in Afghanistan under the mandate of the UN Security Council which is renewed every year. The objective of the allied forces in Afghanistan is to achieve and maintain peace and stability," he said.

"We are of the opinion that until and unless this objective is achieved, the allied forces should stay in Afghanistan. Regarding the second question, you must have seen the reports that Taliban are now talking directly with the US," he added.

Pakistan has 'very strong' case against Jadhav: FO

The spokesperson also welcomed the peace efforts by Washington, saying Islamabad always emphasized the need for finding a political solution to the Afghan unrest.

Iranian guards' abduction

Faisal told reporters that Pakistan had already launched efforts to ascertain the whereabouts of abducted Iranian guards along with the coordination and cooperation of Iranian military.

He went on to say that Foreign Minister Shah Mehmood Qureshi and his Iranian counterpart Javad Zarif also spoke on phone to discuss the situation arising of the abduction of 14 Iranian guards.

During the telephonic conversation, he said, it was noted that the two Directors General (Military Operations) were in close contact through hotline to coordinate the search and rescue efforts including enhanced air surveillance and troops' deployment in the border area where the incident took place.

Foreign Minister Qureshi said that such incidents are the handy work of our common enemies unhappy with the existing close, friendly relations between Islamabad and Tehran.
COMMENTS (1)
Comments are moderated and generally will be posted if they are on-topic and not abusive.
For more information, please see our Comments FAQ