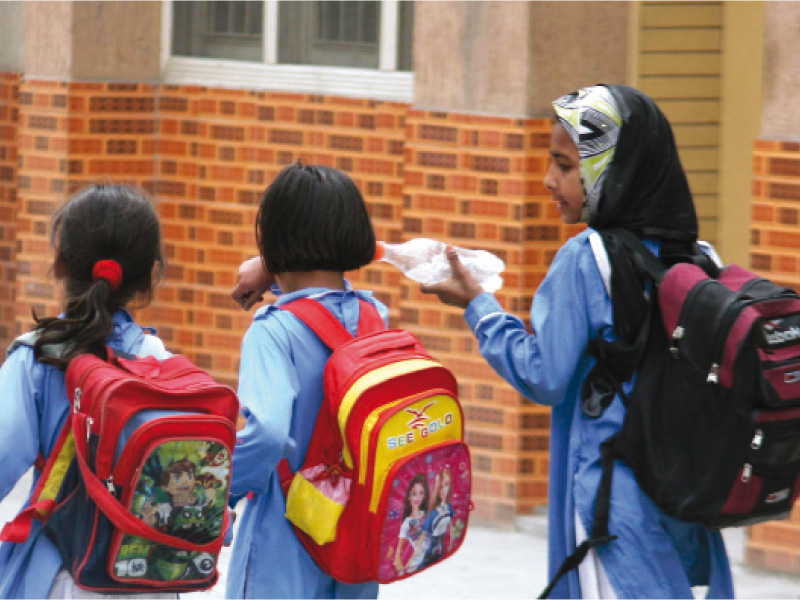 ---
PESHAWAR: Voicing concern over heavy bags carried by schoolchildren, the provincial government on Tuesday was directed to sit with private schools and come up with a concrete mechanism on rationalising the backpack loads.

"We do not need only paperwork, but concrete efforts to address the issue of schools bags stuffed with books," ordered Peshawar High Court (PHC) Justice Qaiser Rashid Khan.

Justice Qaiser is heading a division bench which is hearing a petition filed by Moammar Jalal and Zahanatullah who have urged the court to act on the heavy schoolbags which are causing various types of health issues for small children.

The petitioner further suggested reverting to smart classes and utilize technology in schools to teach instead of forcing students to purchase hefty books from schools which also add a financial burden on parents.

The petitioners, in their arguments, had quoted different research studies showing that children below 10-years-of-age suffer from orthopaedic ailments due to heavy schoolbags.

"We cannot allow this to continue. The government and private schools have to address this issue now," ordered Justice Qaiser. "Put your heads together. Find a formula or mechanism to reduce the [weight of] satchels of schoolchildren."

Assistant Advocate General Sikandar Shah told the court that the weight of a school bag is dependent on the school syllabus as he insisted that the Khyber-Pakhtunkhwa (K-P) government was serious in addressing the issue and had formed a committee in July this year seeking recommendations for reducing the weight of the schoolbags.

However, Shah conceded that the committee has yet to present a set of recommendations.

Meanwhile, the principal of a private school told the court that the real issue of weight was the syllabus. The problem, he contended, could be solved if the provincial government initiates the process of reducing syllabus by laying greater emphasis on extracurricular activities — especially at the primary level.

The bench ordered the K-P Textbook Board Authority chief and the Board of Intermediate and Secondary Education to appear before the court and explain why the 'so-called high standard' has been set up to be religiously followed by schools.

Justice Qaiser further remarked that schools have set up bookshops within the school premises with students bound to purchase hefty books from them. This, he said, has added a large financial burden on parents.

The bench also expressed concern on the competition of securing the highest marks between private schools, noting that "the schools are in a record-breaking contest and both private schools and the board officials have violated all laws and rules."

Published in The Express Tribune, October 17th, 2018.