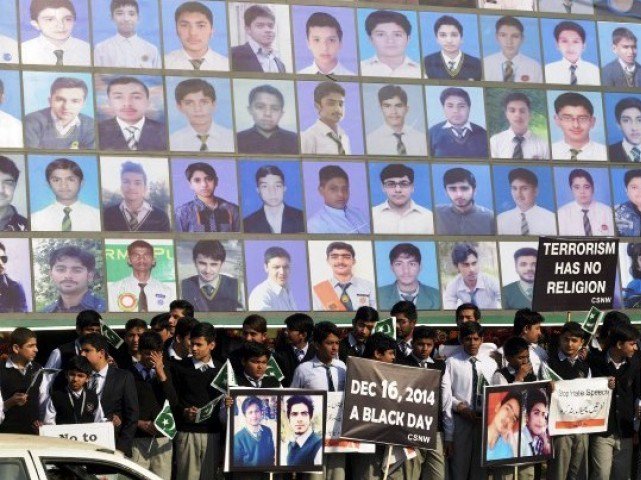 ---
PESHAWAR: On the orders of the Supreme Court, the Peshawar High Court has nominated Justice Muhammad Ibrahim to head the judicial commission to probe the attack on Army Public School (APS) in Peshawar.

The commission will be carrying out a judicial inquiry into the killings of school children and teachers and submit a detailed inquiry report within 45 days.
According to details, parents and relatives of the victims of the terror attack on APS back in 2014 had been demanding formation of a judicial commission to probe the brutal attack which claimed the lives of over 146 people, mostly school children.
According to the orders of the apex court, a senior judge was to be appointed for the commission upon which the PHC appointed Justice Ibrahim.
The orders were issued by the apex court while hearing a human rights case on October 5.
An official notification from PHC stated that the commission was constituted following orders of the apex court [to the PHC] to appoint a senior judge who shall conduct a thorough probe into the matter as per the grievances of the complainants and shall submit a report within six weeks.

After four years: SC forms judicial commission to probe APS carnage
"Now, therefore, Justice Muhammad Ibrahim Khan, honourable judge of the court, having been nominated, is hereby appointed as commission for the stated purpose," an official notification read.
The notice came as parents of the APS students staged a protest outside the Supreme Court's Peshawar registry.

They urged the top judge to provide them justice. Chief Justice of Pakistan Justice Saqib Nisar heeded to their calls and demanded an update on the case.
CJP Nisar took the provincial government to task and issued a notice to it over its failure to properly prosecute the APS attack case. Hearing the case at the Supreme Court's Peshawar registry, Nisar on Thursday took notice of how the case was still languishing in courts and issued a notice to the provincial government.