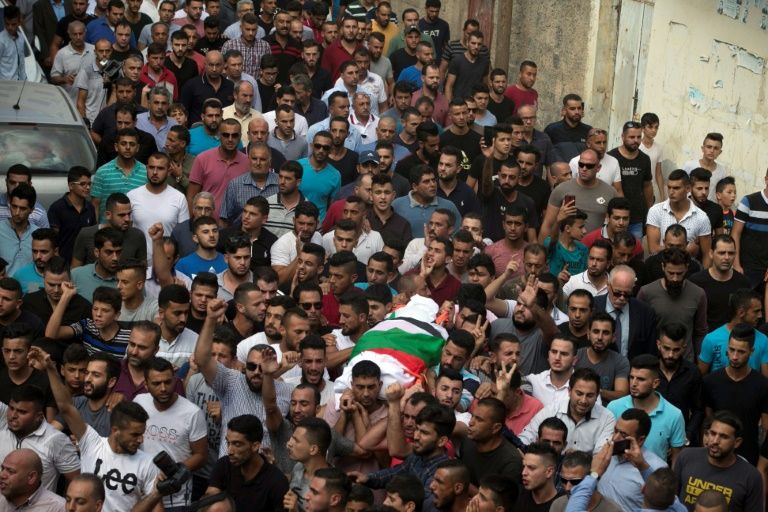 ---
RAMALLAH: A Palestinian woman died of her wounds after Israeli settlers in the occupied West Bank threw stones at the car she was travelling in, Palestinian security sources and media said on Saturday.


An Israeli police spokesman confirmed a car had been hit by stones but did not identify the perpetrators. He said an investigation was underway but did not give further details.




Palestinian official news agency Wafa identified the passenger who died as 48-year-old mother of eight, Aisha Mohammed Rabi.




She died in hospital in the northern West Bank city of Nablus from a head injury sustained in the stone-throwing incident south of the city on Friday, Wafa said, citing medical and Palestinian security sources.




Israeli run over, killed after stone throwing: army




Her husband, who was driving the car at the time, escaped with minor injuries, the same sources said.




Palestinian witnesses and security sources cited by the news agency said the stones were thrown by Israeli settlers.




Stone-throwing incidents implicating Israeli settlers have risen of late, the Palestinian security sources added.




The Israeli army has not commented on the attack.




Tensions have been running high in the West Bank over the past week with two attacks against Israelis.




Israeli strike on Hamas in Gaza kills Palestinian woman, child




On Friday, Israeli forces said they had arrested a Palestinian on suspicion of stabbing and wounding an army reservist on guard duty at a checkpoint south of Nablus the previous day.




Another wanted Palestinian, who is suspected of killing two Israeli colleagues and wounding a third in the northern West Bank last Sunday, remains on the run.




Israeli security forces have identified him as Ashraf Naalwa, 23.




A wave of mainly lone-wolf Palestinian attacks against Israelis in the West Bank erupted in 2015 but had largely abated.
COMMENTS
Comments are moderated and generally will be posted if they are on-topic and not abusive.
For more information, please see our Comments FAQ