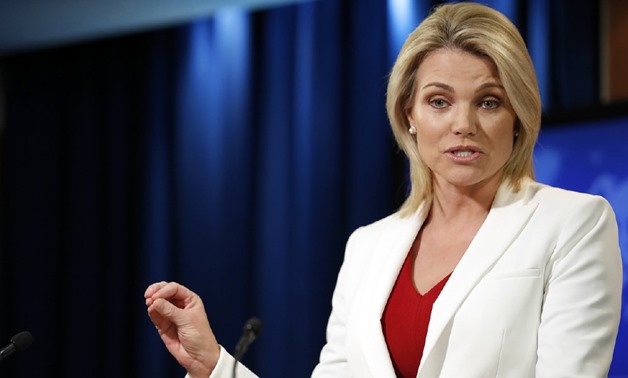 ---
US State Department spokesperson Heather Nauert said Pakistan's request for an International Monetary Fund (IMF) bailout package will be closely examined as "part of the reason that Pakistan found itself in this situation is Chinese debt".

"I think part of the reason that Pakistan found itself in this situation is Chinese debt and the fact that there is debt that governments have incurred that they may be thought wouldn't be so tough to bail themselves out of, but has become increasingly tough."

Pompeo assured US won't block Pakistan's bid to seek IMF bailout: Fawad Chaudhry

Nauert identified loans Pakistan has taken from China to fund the China-Pakistan Economic Corridor (CPEC) as the reason for its current financial trouble while speaking to media during a state department press briefing. The spokesperson was responding to a reporter's question about Secretary of State Mike Pompeo's previous reservations on bailout packages for Pakistan.

Earlier in the year, Pompeo had warned any IMF bailout packages given to Pakistan should not be used to pay off Chinese debts.

After a visit to the country in September, however, he had eased his stance and assured Pakistan that Washington would not try to block any requests to the IMF for a bailout.

IMF mission to arrive in coming weeks for bailout talks

IMF Managing Director Christine Lagarde on Thursday announced that she would send a mission to Pakistan for bailout negotiations amid emphasis on full disclosure of the debt Pakistan has acquired including from China.

The IMF issued a statement after Lagarde met with Finance Minister Asad Umar in Indonesia on the sidelines of IMF-World Bank annual meetings. During the meeting, financial assistance was requested from the IMF to help address Pakistan's economic challenges, she said.

"An IMF team will visit Islamabad in the coming weeks to initiate discussions for a possible IMF-supported economic programme," Lagarde said, adding that the Fund was looking forward to a continuing partnership.


After failing to find alternative sources to bridge a $10-billion financing gap in the current fiscal year, Umar on Monday announced that Pakistan would approach the IMF for a bailout package – the second in the past five years.


Both Pakistan and the IMF have already covered significant ground during a week-long staff-level visit of an IMF team to Pakistan that ended last week. However, some thorny issues remained to be addressed including the extent of new measures and disclosure of details of China-Pakistan Economic Corridor (CPEC) projects.

IMF proposes cut in provincial share in NFC

Before meeting Umar, Lagarde shared IMF's concerns about financing details of China's Belt and Road Initiative (BRI) while addressing a press conference. CPEC is a pilot project of the BRI.

To a question about CPEC-related debt concerns, Lagarde said "whatever work we do, we need to have a complete understanding and absolute transparency about the nature, size and terms of the debt that is bearing on a particular country."

"And to really understand the extent and composition of that debt, both in terms of sovereign, in terms of state-owned enterprises and the like of it, so that we can actually really appreciate and determine the debt sustainability of that country, if and when we consider a programme."

Of the estimated $60 billion in CPEC investments, over $28 billion worth of projects are currently at various stages of implementation. Most of the investment, estimated at over $22 billion, has been made in the energy sector, which remains a concern for the IMF, according to sources in the planning ministry.

The federal government's total debt swelled to 72.5% of gross domestic product by June this year, which is considered unsustainable for a developing country like Pakistan.

IMF cautions Pakistan against increasing Chinese involvement in economy

In a cabinet meeting, Prime Minister Imran Khan instructed the finance ministry to provide a detailed analysis of utilisation of Rs24 trillion worth of debt that the country acquired from 2008 to 2018.

Responding to a question, Lagarde emphasised that the issue of debt transparency and appropriate understanding of debt was not only going to apply to Pakistan as it was applied to all countries.

She explained that it was part of a necessary disclosure exercise that the IMF had to agree with its members for the purpose of a debt sustainability analysis and also for the purpose of governance.

"Fully understanding what the liabilities are and to whom they have been assigned is a necessity," Lagarde remarked.

The IMF has already made public what it expects from Pakistan in return for extending a loan. "Policies should include more exchange rate flexibility and monetary policy tightening, further fiscal adjustment … strengthening the performance of key public enterprises together with further increases in gas and power tariffs," said a statement the IMF issued last Thursday.

Finance ministry sources said the IMF demanded depreciation of the rupee by over 20% and increase in key interest rate to 12.5%. The PTI government has already let the rupee weaken by almost Rs9 to Rs133.6 to a dollar on Tuesday.

Global debt is growing, but so are public asset values

But finance ministry officials insisted that Pakistan would give the Letter of Intent for the bailout package only when it was satisfied that programme conditions were in the interest of the country.

The size of the new programme would depend on the gap that both the IMF and Pakistan would agree to, said the sources. Pakistan would try to project a relatively bigger hole to get maximum financial assistance.

Pakistan's quota

Pakistan has a quota of 2 billion special drawing rights (SDR) in the IMF, which is equal to roughly $2.8 billion at the current exchange rate.

The IMF's quota is broadly based on the size of the economy of its member country and its voting power. In 2013, the IMF had approved a $6.2-billion bailout package for Pakistan, which was equal to 425% of the allocated quota.

At present, Pakistan owes $6 billion to the IMF, which means the country has already exhausted about 214% of its quota. This could further reduce the size of the IMF loan as the lender will extend the loan after excluding past liabilities.

In 2008, the IMF had approved a $11.3-billion bailout package for Pakistan, equal to 700% of the country's quota.


COMMENTS (5)
Comments are moderated and generally will be posted if they are on-topic and not abusive.
For more information, please see our Comments FAQ