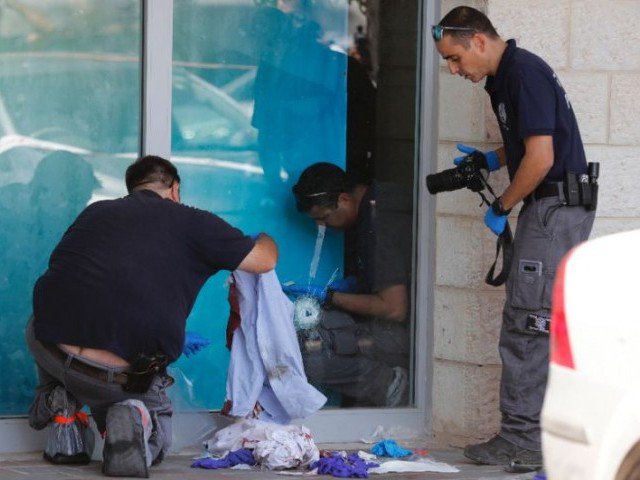 ---
JERUSALEM: Israeli forces detained a Palestinian suspected of stabbing and wounding a soldier but a manhunt continued for a second Palestinian who shot dead two Israeli civilians, the army said Friday.

The army spokesperson's office released video it said had been taken late on Thursday showing a cuffed and blindfolded man being led by soldiers in what appears to be a military facility.

Israeli fatally stabbed by Palestinian in West Bank

"A short while ago, the terrorist who committed the terror attack... this afternoon was caught," regional commander Colonel Sagiv Dahan said in the Hebrew-language clip.

An army spokesperson told AFP that details of the suspect and his arrest were being withheld for the time being as his interrogation was still in progress.

He is suspected of stabbing and wounding an army reservist on guard at a junction near the northern West Bank city of Nablus on Thursday afternoon.

A civilian was moderately wounded from shrapnel when soldiers fired in the direction of the fleeing assailant, the army said.

The fugitive who remains on the run is suspected of killing two Israelis and wounding a third in a shooting on Sunday in the Israeli-owned industrial zone where they all worked near the northern West Bank Jewish settlement of Barkan.

"Activity continues to catch the terrorist who carried out the shooting attack at Barkan," an army statement said in Hebrew.

The army has named the wanted man as Ashraf Naalwa, 23, from the northern West Bank village of Shuweika.

Seven Palestinians killed in new border clashes: Gaza ministry

The two attack sites and Shuweika village all lie within a 32 kilometres radius but so far there has been no indication of any connection.

A wave of mainly lone-wolf Palestinian attacks against Israelis erupted in 2015 but it has since largely abated.
COMMENTS
Comments are moderated and generally will be posted if they are on-topic and not abusive.
For more information, please see our Comments FAQ