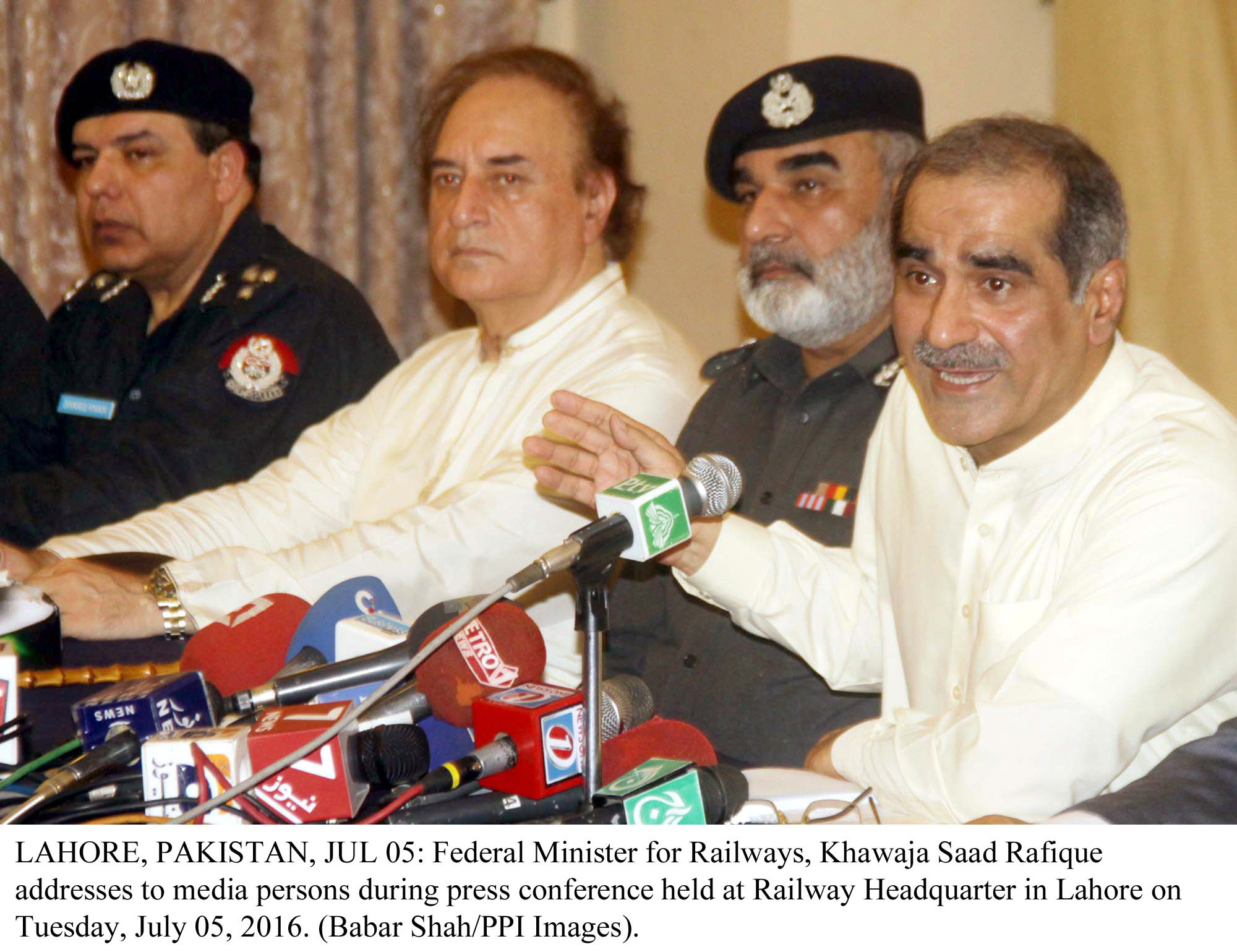 ---
ISLAMABAD: Former railways minister Khawaja Saad Rafique and his brother approached the Islamabad High Court (IHC) requesting it to not only grant protective bail but also direct the National Accountability Bureau (NAB) to intimate (them) about pending cases or inquiries as it would enable them to seek bail in time.

Saad and his brother, Khawaja Salman Rafique, through their counsel Amjad Pervaiz and Kamran Murtaza filed petitions in IHC on Wednesday fearing possible arrest at the hands of NAB. They have made NAB chairman and director general NAB Lahore, respondents.

Saad while referring to the arrest of leader of opposition Shehbaz Sharif said the "NAB chairman and officials subordinate to him are acting like agents for the PTI government." While referring to same event, his brother stated the "bureau is abusing the process of law for political victimisation."

IHC's division bench comprising Justice Aamer Farooq and Justice Mohsin Akhtar Kayani will take up the petitions on Oct 11 (today).
Saad maintained he held different portfolios, including youth affairs, culture and railways but never drew any salary from the public exchequer to which he was entitled as federal minister or MNA.

In the 1999 era, he said an inquiry was authorised against him under NAB Ordinance of 1999 during which his entire career was probed into at length yet NAB could not find any wrongdoing against him.

Notwithstanding immense pressure by the then military dictator, he said, the inquiry was closed and the inconvenience caused was regretted by NAB after probing the matter for three years.

Before the 2018 general elections, the counsel said, the petitioner was served with call-up notice on March 20, 2018 on the subject of an inquiry against management of Paragon City Private Limited and others.

CJP, Saad Rafique have a heated exchange of words

In compliance, he said, the requisite information was submitted along with a written reply on March 28, 2018. He said Saad also appeared in person before the Combined Investigation Team on the same date and extended full cooperation and divulged whatever information was within his knowledge.

The counsel said the categorical stand of the petitioners was that he has neither been director nor shareholder of the concerned company and had no say in its affairs.

The petition also revealed the petitioner was again served with a call-up notice on June 25 on the subject of an inquiry against management of Punjab Land Development Company although the petitioner has never had any concern with the said matter.

"The fishing expedition against the petitioner was prompted by mala fide intention and political motivation to damage the political image of the petitioner to influence the outcome of polls," Saad's petition read.

It added that contrary to the standard norm of inquiry, the bureau released the call-up notice to media to create sensation and to give an opportunity to political rivals to arrange talk shows for his character assassination.

Despite the non-availability of even an iota of evidence to show any concern of petitioners with the project, he said, NAB officials are bent upon dragging both brothers in these affairs with mala fide intention.

The petitioners have prayed the court to direct NAB chief to intimate them about cases pending inquiry or investigation and grant them two weeks' time in case of issuance of warrants of arrest to enable them to approach the court of competent jurisdiction for bail in accordance with law. They have also sought protective bail.
COMMENTS (1)
Comments are moderated and generally will be posted if they are on-topic and not abusive.
For more information, please see our Comments FAQ