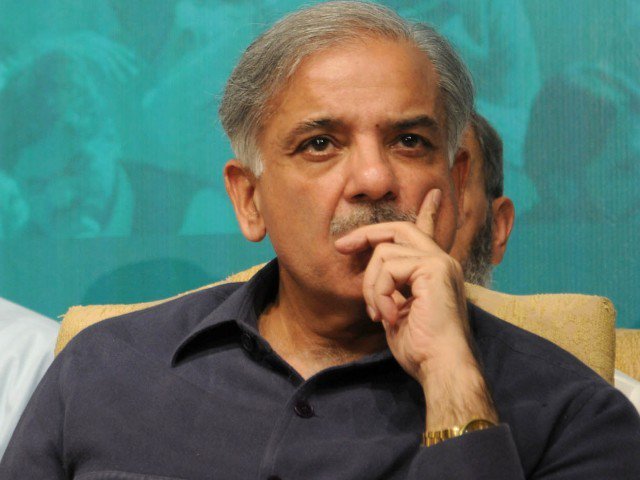 ---
LAHORE: In a dramatic turn of events, the country's top accountability watchdog on Friday arrested the Pakistan Muslim League-Nawaz (PML-N) President and former chief minister of Punjab, Shehbaz Sharif, over his alleged involvement in a multi-billion rupees housing scam, the Ashiyana-e-Iqbal Housing Project.

Shehbaz, who is also the Leader of Opposition in the National Assembly, was arrested by the National Accountability Bureau (NAB) inside its Lahore office where he was summoned to record his statement before a combined investigations team in connection with the Punjab Saaf Pani Company case.

'Political victimisation': Political leaders react to Shehbaz Sharif's 'sudden' arrest

The news of Shehbaz's arrest came forth when his security staff and vehicle were sent back by NAB officials about 40 minutes after his arrival at the NAB office, and spread like wildfire.

Right after the arrest, the security of NAB office was beefed up. Extra contingents of police and rangers were deployed inside and outside the watchdog's Lahore headquarters.

NAB gets hold of key documents for investigation on Ashiana and Metro projects

Some supporters of the PML-N came on Lahore's GT Road near Shahdara Mor, blocked the road for every kind of traffic and chanted slogans against the arrest. However, overall situation of the city, regarded as the PNL-N bastion, remained calm.

In a statement issued earlier, NAB said, "NAB Lahore has arrested former Chief Minister Punjab Shehbaz Sharif in Ashiyana Company case. NAB will produce him before an accountability court for remand." It said NAB would ask the court for Shehbaz's 14-day physical remand.




Later in the evening, NAB issued another statement in which it cited reasons for the high-profile arrest, while dispelling the 'impression that the move was politically motivated'.

According to the statement, NAB has sufficient evidence to prove the involvement of the former CM in commission of offences as defined under section of 9(a) and Schedule of the NAB 1999. It said that Shehbaz, as Punjab CM, illegally assumed powers of the Punjab Land Development Company's (PLDC) Board of Directors.

"[He] misused his authority and acted in connivance with accused Fawad Hassan Fawad, then the Secretary Implementation to CM Punjab, and others and illegally got cancelled a contact awarded to M/s Chaudhry Latif and Sons for infrastructure development of Ashiyana-e-Iqbal Housing Project," it said.

According to NAB, the said award of contract was declared lawful, as per the PPRA Rules, by a high-powered committee so there was no justification to cancel it. However, it was done to give illegal favour to favourite contractor who had paid illegal gratification for the same.

"Accused as CM Punjab in a meeting dated October 21, 2014, unlawfully directed PLDC to entrust the project of Ashiyana-e-Iqbal Punjab to Lahore Development Authority (LDA). This decision was illegal and malafide as the PLDC was the company which was established for undertaking such housing projects," said the NAB statement.

It said that the decisions of the PLDC were to be taken by its board of directors (BOD) independently as per the Corporate Governance Rules 2013 and Companies Ordinance 1984 (now Companies Act 2017).  This act on the part of accused Shehbaz Sharif not only negated the very objective of creation of PLDC but also caused huge loss to state exchequer, it added.

NAB accuses PPP MPA of embezzling Rs198m

According to the statement, Shehbaz illegally transferred the project to LDA, which was headed by his close aide Ahad Khan Cheema. And Cheema, in connivance with the said accused, awarded illegal contract of Ashiyana project and received illegal gratification for the same.

It said the accused further worked in connivance with other accused persons and directed the LDA to undertake the Ashiyana-e-Iqbal project under the Public Private Partnership (PPP) mode.

"This was done just to give unlawful benefit to blue eyed firm namely M/s Bismillah Engineering Service Company, which was a proxy of M/s Paragon City. The PPP mode was adopted in order to give undue benefit to 2000-k (Kanal) state land under the garb of remuneration for construction of flats in Ashiyana-e-Iqbal Barki Road Lahore," said NAB.

Earlier arrests

Shehbaz is the eighth accused person to be arrested in the case. In February, NAB had arrested LDA's former director general Ahad Khan Cheema. Within a few days of Cheema's arrest, NAB also arrested Bilal Qidwani, Imtiaz Haider, Shahid Shafiq, Sardar Saeed and Arif Butt.

During the investigations, NAB found that Cheema had misused his authority in awarding the contract to Casa Developers, a company that was not eligible for the project according to the Public Private Partnership Act in return for a bribe of 32 kanals of land.

The payment of Rs30 million to purchase the land was done through an account of Paragon Housing Society. Cheema remained in NAB's custody for 90 days. Later, two references, one of corruption in Ashiyana scheme and the other of making assets beyond means, were filed against him.

In July, NAB also arrested former principal secretary to PM Fawad Hassan Fawad, who served as implementation secretary of the project at the time of its launch. NAB accused him of issuing orders of awarding the contract to Chaudhry Latif and Sons.

He was also accused of hiding an inquiry conducted by then finance secretary Tariq Bajwa to probe the matter of suspension of the award of the contract. NAB also conducted a raid at the house of Fawad and found laptops, USBs and other evidences. During investigations, it was found that he also had assets beyond his means.

While investigating the Ashiyana scam, NAB also started investigating the complaints of embezzlement and corruption in Paragon Housing Society. It summoned former railways minister Saad Rafique, his brother Salman Rafique and others in connection with the scam multiple times.

It came forth during the investigations that a 'fishy' deal for exchange of land over 40 kanals was also made between the Ashiyana-e-Iqbal Housing project and the Paragon Society.

NAB has summoned Saad Rafique and Salman Rafique in the Paragon Housing Society scam case on October 16.

Besides the Ashiana scam, Shehbaz is also being probed in connection with the 56 companies case, Punjab Saaf Paani Company case and a case concerning the construction of Raiwind Road.
COMMENTS (5)
Comments are moderated and generally will be posted if they are on-topic and not abusive.
For more information, please see our Comments FAQ