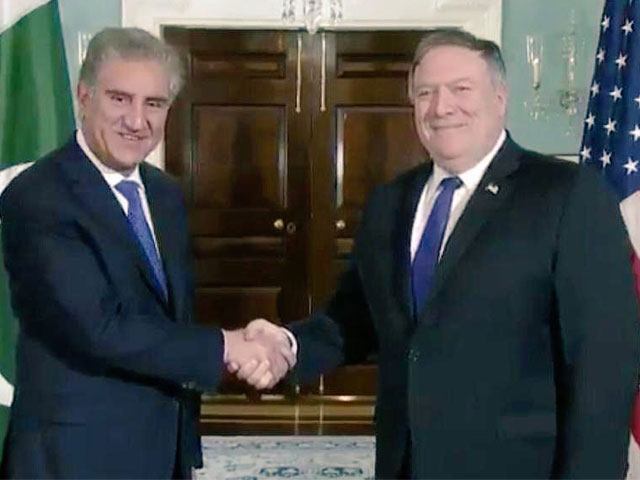 ---
Foreign Minister Shah Mehmood Qureshi stressed on a broad-based relationship with the United States during separate meetings with the US Secretary of State Mike Pompeo and National Security Adviser John Bolton on Tuesday.

The foreign minister was accompanied by Foreign Secretary Tehmina Janjua and Ambassador Ali Jahangir Siddiqui during the high-level huddle with Pompeo.

Pakistan, US stress need to boost cultural ties

The two sides discussed matters related to stability in the region during Qureshi's meeting with Pompeo. The foreign minister said close "engagement between Pakistan and the United States had always been mutually beneficial and a factor for stability in South Asia".


Foreign Minister Shah Mahmood Qureshi & US Secretary of State Mike Pompeo shaking hands before start of the official meeting today, 02 October 2018 at the US State Department. pic.twitter.com/8esqH6Rsks

— Pakistan Embassy US (@PakinUSA) October 2, 2018


Qureshi asserted that peace would remain elusive until all disputes, the issue of Jammu and Kashmir was resolved.

He emphasised that a "broad-based and structured framework for dialogue would best serve the two countries' shared interests." He also reiterated the Imran Khan-led government's "development-focused and people-centric agenda" which was "contingent on peace and security in Pakistan's neighbourhood."

Regional security featured heavily in the discussion between the country's envoy and the US national security advisor. Qureshi briefed Bolton on India's aggressive posturing in the region and said the Modi-led government backtracked from a previously agreed upon meeting at the sidelines of the UNGA. "After initially agreeing to PM Imran's peace initiative, the Indian government caved into internal politics."

FM Qureshi underscored that "Pakistan remained committed to engaging India in a comprehensive peace dialogue to resolve all outstanding issues including the Kashmir dispute."

Referring to Islamabad and Washington's shared desire for peace and stability in Afghanistan and the region at large, the foreign minister reiterated support for "a political settlement in Afghanistan" and stated that the use of force had failed to deliver results.

Appreciating Pakistan's support for reconciliation in Afghanistan, Pompeo said the US looked forward to working with the new government.

The leaders observed that "time was ripe for the Afghan Taliban to avail the opportunity for a political settlement by seizing the opportunity for dialogue". Qureshi reiterated Islamabad's position that there was no military solution to the situation in Afghanistan.


This afternoon, @SecPompeo welcomed #Pakistan's Foreign Minister @smqureshipti to the State Department. @foreignofficepk @usembislamabad @pakembassydc pic.twitter.com/o2PZ0lQlRD

— Department of State (@StateDept) October 2, 2018


"Pakistan would continue to support the efforts for an Afghan-owned and Afghan-led peace and reconciliation process in Afghanistan," he said. He added that peace and stability in Afghanistan was vital Pakistan's own long-term stability and progress.

FM Qureshi underscored that the Afghanistan Pakistan Action Plan for Peace and Solidarity (APAPPS) provided the most effective mechanism to promote mutually beneficial cooperation between Islamabad and Kabul.
COMMENTS (1)
Comments are moderated and generally will be posted if they are on-topic and not abusive.
For more information, please see our Comments FAQ