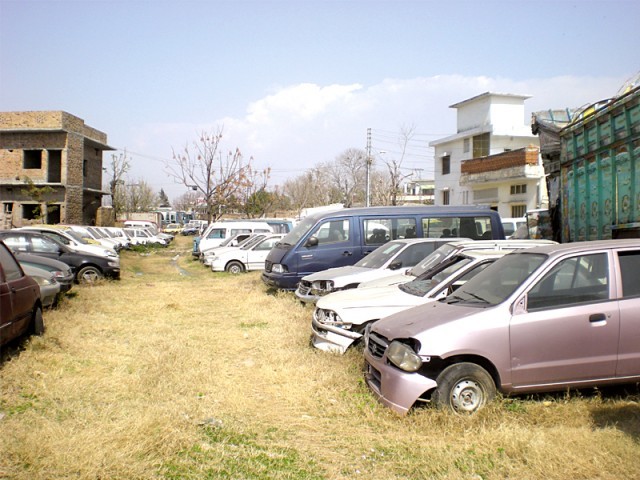 ---
PESHAWAR: In a surprising move, the provincial excise department has been asked by a court to produce a double cabin pickup in its original condition even though the vehicle had been impounded five years ago.

The vehicle has reportedly rusted after it was left parked under the open sky in an excise impound yard.

A division bench of the Peshawar High Court (PHC), comprising Justice Roohul Amin Khan and Justice Ikramullah Khan, issued the order after hearing a writ petition filed by Ali Bahadur, a resident of Swabi.

Reckless driving claims two lives in Chagai

The court order, written by both the judges, read that they noted with great concern that the vehicle was taken into custody by an excise squad and a first information report (FIR) was registered by Inspector Sher Muhammad Khan against Bahadur in 2013.

Since then, the vehicle of the petitioner remained in the custody of the excise department without any proceedings in the case.

During the hearing of the case, Inspector Nouman Akhtar appeared before the court and was asked about the whereabouts of the vehicle.

Akhtar replied that it is parked in a warehouse the department maintains in Swabi.

The court subsequently directed him to produce the vehicle before the court within four days.

In compliance with the court's order, the vehicle was brought to the court on Friday but was loaded on the back of flatbed truck since it was no longer in running condition.

Ajmal Khan, the counsel for the petitioner, claimed that the vehicle had been gifted by the excise authorities to the provincial excise and taxation minister for his personal use.

After reviewing the condition of the vehicle, the bench noted that ever since the vehicle had been impounded by the excise department in 2013, it had been parked at the warehouse under the open sky without any care or has been misused or mishandled by officials of the department, so now the department was responsible for its condition.

Motorway police launch HTV driving simulators

"They [excise department][ are responsible to bring it to its original condition with all its tools and accessories," the court ordered.

The excise department was subsequently directed restore the vehicle to its original condition and produce it before the court on October 3.

Should the department fail to do that, the court warned that the 'law will take its own course' with Inspectors Sher Muhammad Khan, Nauman Akhtar and excise and taxation officer Iqbal to be held responsible.

The court then adjourned the case till October 3.

 

Published in The Express Tribune, September 29th, 2018.