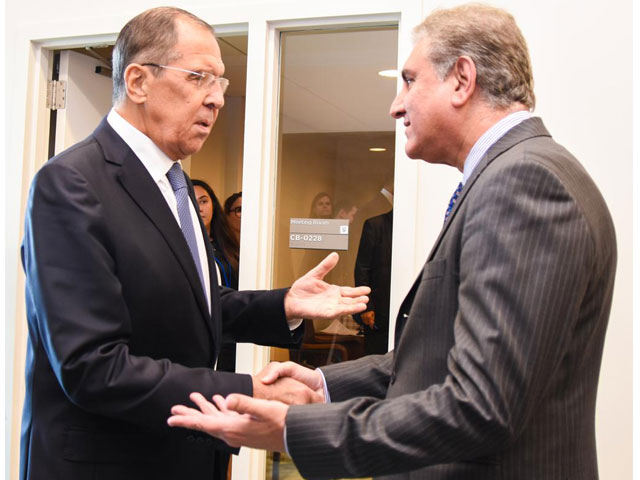 ---
Foreign Minister Shah Mahmood Qureshi met his Russian counterpart Sergey Viktorovich Lavrov in New York on the sidelines of the 73rd session of the UN General Assembly.

According to an official statement, the two ministers discussed broader areas of mutual cooperation including trade and investment, peace and security, and development cooperation.

Qureshi stressed the need to translate the gradually increasing multi-dimensional partnership between the two countries into multi-faceted strategic partnership.

The two leaders, the communique added, also discussed the ongoing efforts for peace and stability in Afghanistan.

India FM walks out of SAARC meet before Pakistan statement

Foreign Minister appreciated cooperation with Russia in the field of energy and termed it as a 'strong pillar' of partnership between the two countries.

The UNGA is one of the six main organs of the UN and the only one where all member states are given equal representation: one nation, one vote. During the session, all 193 member states "discuss and work together on a wide array of international issues covered by the UN Charter, such as development, peace and security, international law, etc."

The Pakistani delegation at the UNGA comprises Foreign Minister Shah Mehmood Qureshi, Foreign Secretary Tehmina Janjua, Ambassador to the United States Ali Jahangir Siddiqui and Permanent Ambassador to the UN Maleeha Lodhi.