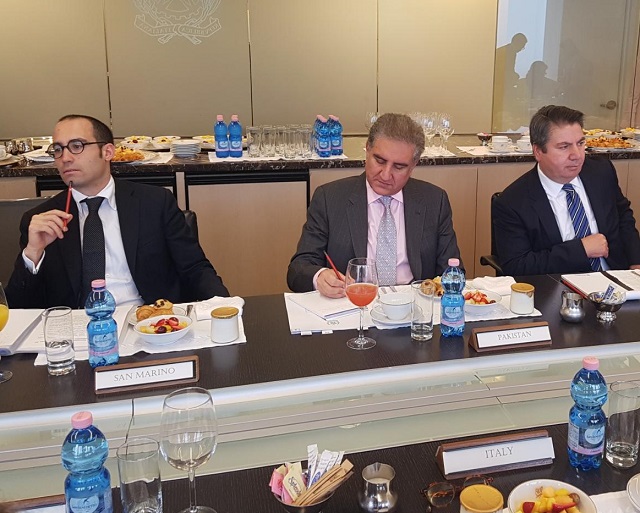 ---
Foreign Minister Shah Mehmood Qureshi said on Wednesday that Pakistan supported a comprehensive reform of the United Nations Security Council to make it a more democratic, representative, transparent and accountable body.


FM met FM of Saudi Arabia, in New York today. Both reiterated their desire to work closely for enhancing bilateral trade, business and investment relations. Both agreed to convene the next round of Bilateral Political Consultations at an early date. #paksaudibrotherhood pic.twitter.com/UFRSfflAlU

— Spokesperson 🇵🇰 MoFA (@ForeignOfficePk) September 26, 2018


"We don't want to sign up for regression in the name of reform," he said while addressing the ministerial meeting of the Uniting for Consensus (UfC) on Security Council reform on the sidelines of the 73rd UNGA session in New York. "Bad reform is no reform," he remarked.


Turkey, Saudi Arabia and Azerbaijan pledged full support for the people of Indian Occupied Kashmir at the meeting of the OIC Contact group in New York. #solidaritywithkashmir #solutionofkashmirdialogueonly pic.twitter.com/1B7lX1RR8k

— Spokesperson 🇵🇰 MoFA (@ForeignOfficePk) September 26, 2018


In recent years there have been discussions and specific proposals to expand the Security Council. One of the contenders is India. However, there has been no breakthrough so far given lack of consensus on the issue.


FM addressed the OIC Contact Group on J&K on the sidelines of UNGA session. FM briefed them on gross HR violations in IOK. FM called for #CommissionofInquiry as recommended in #UN #OHCHR report to investigatehuman rights violations in Indian Occupied Kashmir. #pak4kashmir

— Spokesperson 🇵🇰 MoFA (@ForeignOfficePk) September 26, 2018


The Security Council has currently five permanent members — the US, China, Russia, Britain and France.

Trump agrees to reset Pak-US ties: FM Qureshi

Pakistan has been a strong opponent of a group of countries campaigning for permanent seats on the Security Council. Pakistan has termed the attempts contrary to principles of the 21st century of achieving democratic representation through periodic elections.


At the meeting of the Uniting for Consensus on Security Council reforms, FM underscored that a more democratic, representative, accountable, transparent and effective Security Council remains the cornerstone of any comprehensive reform process. #pak4democraticSCreform pic.twitter.com/u42cM3cQwN

— Spokesperson 🇵🇰 MoFA (@ForeignOfficePk) September 26, 2018


India, Brazil, Germany and Japan are the countries demanding permanent membership of the 15-member body for the past 20 years.


The FM, during his address, especially acknowledged Mr. Sigve Brekke, Chief Executive Officer and President of the Telenor Group, who had traveled from Norway to consecrate the message on Pakistan's investment potential. #sigvebrekkepakistan

— Spokesperson 🇵🇰 MoFA (@ForeignOfficePk) September 26, 2018


In today's meeting, the foreign minister said the principled position of UfC accommodates interests of all member states -- small, medium and large. "The Security Council reform cannot become an instrument to further narrow self-serving interests of a few who seek permanent seats at the expense of the wider UN membership," he added.

Conspiracies to incite disharmony in Pak-China ties will fail: Chinese FM

Qureshi said the Security Council reform has strategic importance for member states and underpins vital national interests. The reform process must reflect all views and perspectives to achieve the wisest possible support

The UfC meeting, held at the Italian Mission, has served as a useful opportunity for an annual high-level review of the reform process, and to chart a progressive way forward.


FM addressed business leaders, think tank analysts and media persons at the Atlantic Council in NY.
The FM briefed them on investment opportunities in Pakistan. FM outlined PM approach of proactive engagement, seeking peace in South Asia. #pak4peaceatlanticcouncilUNGA73

— Spokesperson 🇵🇰 MoFA (@ForeignOfficePk) September 26, 2018


The foreign minister said an inclusive and transparent process within the framework of Intergovernmental Negotiations (IGN) is essential to this end.  "Anything less would be counter-productive, for the membership knows all too well that any divisive or non-consensual approaches with a view to artificially pace the process have only served to accentuate existing differences instead of bridging gaps in respective positions," he added.

Expressing satisfaction at the constructive role played by the UfC during the 72nd session of the General Assembly, the meeting undertook to broaden existing efforts with a view to gain further traction and support.


Yesterday was the official kickoff for the 73rd UNGA Session. Had a series of constructive meetings on the margins. Pakistan's role as one of the largest contributors to peacekeeping forces was appreciated by all member states. Looking forward to an equally engaging day today. pic.twitter.com/iBvTjSngO2

— Shah Mahmood Qureshi (@SMQureshiPTI) September 26, 2018