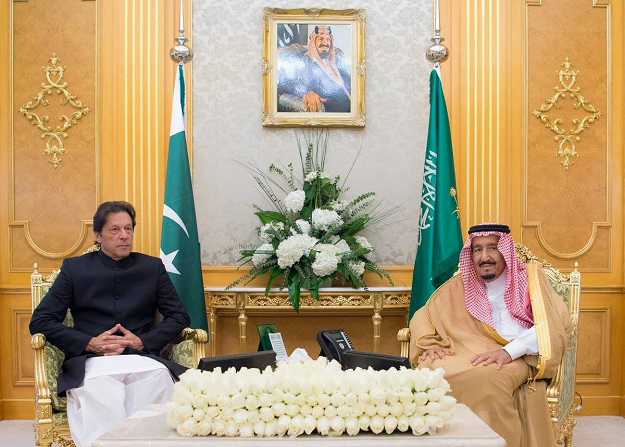 ---
Prime Minister Imran Khan on behalf of the entire nation has felicitated the leadership of Kingdom of Saudi (KSA) on its 88th National Day on Sunday.

In his felicitation message, the premier expressed his best wishes for Custodian of the Two Holy Mosques and King Salman bin Abdulaziz Al Saud, Crown Prince Mohammad bin Salman and other royal family members.

PM Imran also said progress and development of Saudi Arabia is very close to the heart of every Pakistani and its stability is linked with the strength of the Muslim Ummah.

Saudi Arabia assures Pakistan of 'maximum assistance'

"Saudi Arab has always stood by Pakistan in difficult times and the Pakistani government and its people highly acknowledge it," an official statement quoted the prime minister as saying.


Prime Minister Imran Khan felicitates Saudi King and Saudi people on behalf of government and people of #Pakistan on their national Saudi day. Prime Minister said development, progress & stability in Saudi Arabia is heartfelt sentiment of every Pakistani. #SaudiNationalDay2018 pic.twitter.com/y3AqLi4fTj

— Government of Pakistan (@GovtofPakistan) September 23, 2018


Referring to his recently visit to KSA, the prime minister noted that it helped opened a new chapter of bilateral cooperation between the two countries which would benefit the whole region.

During the trip, PM Imran held in-depth talks Saudi leaders including Saudi monarch Salman bin Abdulaziz and Crown Prince Muhammad bin Salman – who backed his reform agenda and assured of 'maximum assistance'.

Govt says Riyadh all set to join CPEC as third partner

The inclusion of Umar and Dawood in PM Imran's entourage hinted that the Pakistan Tehreek-e-Insaf-led (PTI) government was seeking financial assistant to ward off the impending economic crisis.

The government is considering several options to shore up the fast depleting foreign exchange reserves. It is trying to avoid going to the International Monetary Fund (IMF) and instead desires to reach out to friendly countries — including Saudi Arabia, the UAE and China — for financial assistance.
COMMENTS (1)
Comments are moderated and generally will be posted if they are on-topic and not abusive.
For more information, please see our Comments FAQ