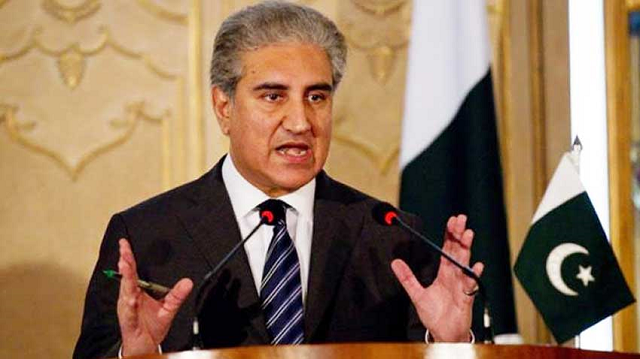 ---
Foreign Minister Shah Mehmood Qureshi departed for the United States on Saturday to attend the United Nations General Assembly (UNGA) session in New York, Radio Pakistan reported.


وزیر خارج شاہ محمود قریشی اقوام متحدہ کے جنرل اسمبلی کے اجلاس میں شرکت کے لئے امریکہ روانگی کے لیے اسلام آباد ائیر پورٹ پہنچ گئے، شاہ محمود قریشی کو اپنے درمیان پا کر شہری خوش، ائیر پورٹ آئے مسافر وزیر خارجہ کے ساتھ سیلفیاں بناتے رہے۔#PTI @SMQureshiPTI pic.twitter.com/6iNeeFN5o5

— PTI (@PTIofficial) September 21, 2018


The UNGA is one of the six main organs of the UN and the only one where all member states are given equal representation: one nation, one vote. The UN officially defines the annual September session as a summit where all 193 member states "discuss and work together on a wide array of international issues covered by the UN Charter, such as development, peace and security, international law, etc."

Modi govt calls off Pakistan-India foreign ministers' UNGA meet

Qureshi will present Islamabad's stance on a host of issues including the Kashmir dispute at the session. He will also hold talks with leaders from various countries including the Trump administration. The foreign minister will also address Pakistani based in Washington later.

Foreign ministers of India, Pakistan to meet on sidelines of UNGA session

Qureshi was earlier slated to hold talks with Indian External Affairs Minister Sushma Swaraj. However, the Bharatiya Janata Party-led government called off the meeting citing recent violence in Indian-occupied Kashmir.

The foreign minister responded to the cancellation by saying India had "priorities apart from dialogue." Reiterating that Pakistan had asked for talks in the greater interest of the region, he added that a 'clique' in New Delhi was averse to talks.
COMMENTS
Comments are moderated and generally will be posted if they are on-topic and not abusive.
For more information, please see our Comments FAQ