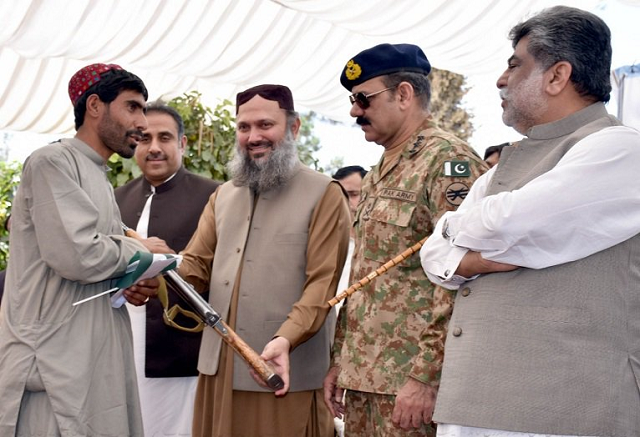 ---
QUETTA: In his first message to the Ferraris after becoming chief minister of Balochistan, Jam Kamal Khan on Tuesday appealed to the remaining Baloch separatist fighters to shun their armed struggle against the state and join the mainstream for the sake of development of the province.

"Our enemies are trying to turn our youth against us by spreading fake propaganda against the state but their nefarious designs will be foiled as the new provincial government is committed to ending the longstanding sense of deprivation among the people of Balochistan," the chief minister said while addressing a ceremony held to welcome the Ferraris, who skipped fighting with the state, in the garden of the Balochistan Assembly.

BRA commander, three militants lay down arms

At least 265 Baloch fighters of various armed groups laid down their arms before the chief minister and Commander Southern Command

Lieutenant General Asim Saleem Bajwa.
The provincial government has distributed compensation cheques among the Baloch Ferraris, who came down from the mountains and joined mainstream.

"Our youth were being lured through false propaganda and money to wage war against the state, but they (enemies) can't succeed in their vicious agenda of disturbing peace in Balochistan," said Kamal.
On the provincial government's future planning, Kamal said, "We have vowed to put Balochistan on the track of development.

70 Baloch insurgents lay down their arms

"There is an immediate need to restore trust of the people in the government. We have been taking steps to win the trust of the people by providing them all necessary facilities, including health, education and clean water."

On Prime Minister Imran Khan's recent announcement of granting citizenship to refugees from Afghanistan and Bangladesh living in Pakistan, he said, "I don't understand on what grounds the prime minister gave such a statement.

"The decision of granting citizenship to Afghan refugees must be taken with the consent of the people of the country as there are reservations of the people of Balochistan over a heavy presence of Afghan refugees in our province."

On Pakistan cricket team's Asian Championship match against rival India, the chief minister said, "The whole nation is praying for our cricket team. They must perform their best against the Indian team.
"They have to pay full attention to their fielding as well as performing their best in bowling and batting."