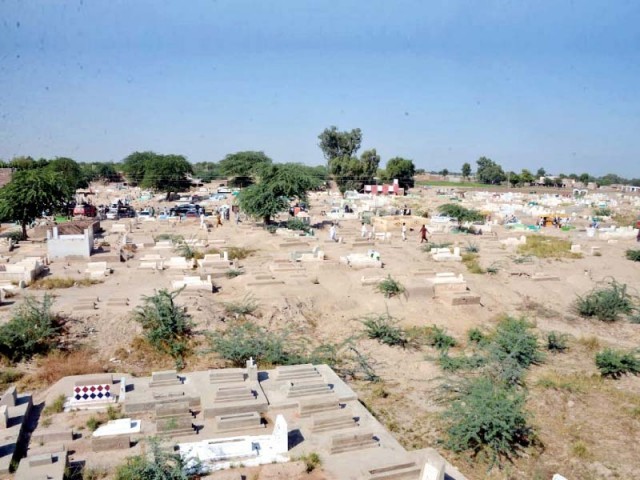 ---
GUJRANWALA: The Shehr-e-Khamoshan graveyard project in Gujranwala division has been a victim of inordinate delays as the revenue department has failed to allocate the land, Express News has learnt. In view of the situation, citizens have been forced to bury their dead by reusing old graves in ancient cemeteries. The project aims to build model graveyards in six districts of Gujranwala division.

The provincial government had announced the project after the completion of model graveyards in Lahore and other cities. Officials told Express News that the graveyards were supposed to be built in Gujranwala, Sialkot, Gujrat, Mandi Bahauddin, Hafizabad and Narowal districts. The Shehr-e-Khamoshan graveyard authority has advised the deputy commissioners of the cities to determine the land available for the project.

From encroachers, animals: Charsadda's historic graveyard under 'attack' (Islamabad city)

However, the reports compiled by the deputy commissioners stated that at least 100 acres is needed for a model graveyard which is not available within the municipal limits of the cities. Consequently, the DCs advised the authority to set up the graveyards outside the limits of the district administration.

Due to a lack of interest on part of the authorities concerned the fate of the project hangs in the balance. The provincial government had advised the district administration to prioritise the allocation of land. The government has even asked officials to buy private land in light of revenue board policies in case the government space is shorter than what is required.

Officials said that the model cemeteries would be outfitted with marble and are expected to have neatly carved graves designed using computer technology.

Highlighting issues: Sanctity compromised: Miani Graveyard in deplorable condition

Each grave unit will be allotted standard name plates with distinct serial numbers, name, father's name and date of death.

Coffins will be provided for the funeral while modern ambulance services will also be available to transport corpses to the graveyard.

In addition, green belts comprising flowers, neatly trimmed grass and plants will be built in each graveyard. Graves with standard sizes will be built in properly lined blocks, while computerised records will help the families and friends in easily locating the graves.

Published in The Express Tribune, September 17th, 2018.