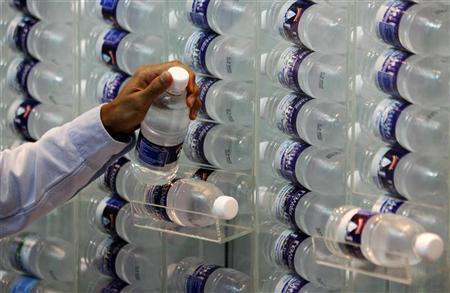 ---
LAHORE: The Supreme Court on Sunday ordered a forensic audit of operations of a private mineral water company and quality check of all major bottled water brands.

Chief Justice of Pakistan Mian Saqib Nisar, who was heading a two-member bench, issued the order while hearing suo motu case pertaining to the alleged exploitation of water resources by mineral water companies operating in the country at the Supreme Court's Lahore Registry.

The issue came up during hearing of a case related to drying up of the Katas Raj pond due to consumption of a huge amount of water by nearby cement factories through drill bores.

During Sunday's proceedings, chief executive officers of all major bottled water companies appeared before the bench in compliance with the directive issued by the bench during hearing on Saturday.

Noting that the mineral water companies had been paying the government nothing for extracting groundwater in bulk, while selling their bottled water at exorbitant rates, the chief justice asked the companies to hold talks with the government and decide an appropriate rate for water extraction, adding that WASA's board had already suggested a tariff increase.

Justice Nisar also pointed out that Nestle had earned Rs6 billion in profit last year.

Aitzaz Ahsan, who appeared on behalf of Nestle, requested the court for granting a month's time for submitting proposals in this regard.

However, the chief justice declined the request and ordered the forensic audit of Nestle's mineral water operations.

CJP Nisar also observed that major residential societies, which were drawing underground water and charged residents for the same, also paid nothing to the government.

He observed that the court would also take up this matter soon.

Earlier, Nestle's lawyer, Aitzaz Ahsan, urged the court to defer the audit until the firm submitted its own report. The court, however, rejected Ahsan's request.

Meanwhile, other companies also requested the court to give more time but the court refused to grant them this request. The bench observed that the financial audits of those companies would determine how much money they owed to the people of Pakistan.

"The mineral water companies have been earning (bloated profits) for the past 20 years (without paying any taxes)," Justice Ijazul Ahsan remarked.

Chief Justice Saqib Nisar said that it was high time that these companies paid back to the nation.

"A sense of accountability has started to prevail among the people. After this case, the companies will pay a suitable fee (for the water they use) and will sell (the bottled water) at a suitable price," he said.

The court appointed Kokab Jamal as forensic auditor and ordered him to submit report within 15 days regarding costs, rates and other factors involved in mineral water business.
COMMENTS
Comments are moderated and generally will be posted if they are on-topic and not abusive.
For more information, please see our Comments FAQ