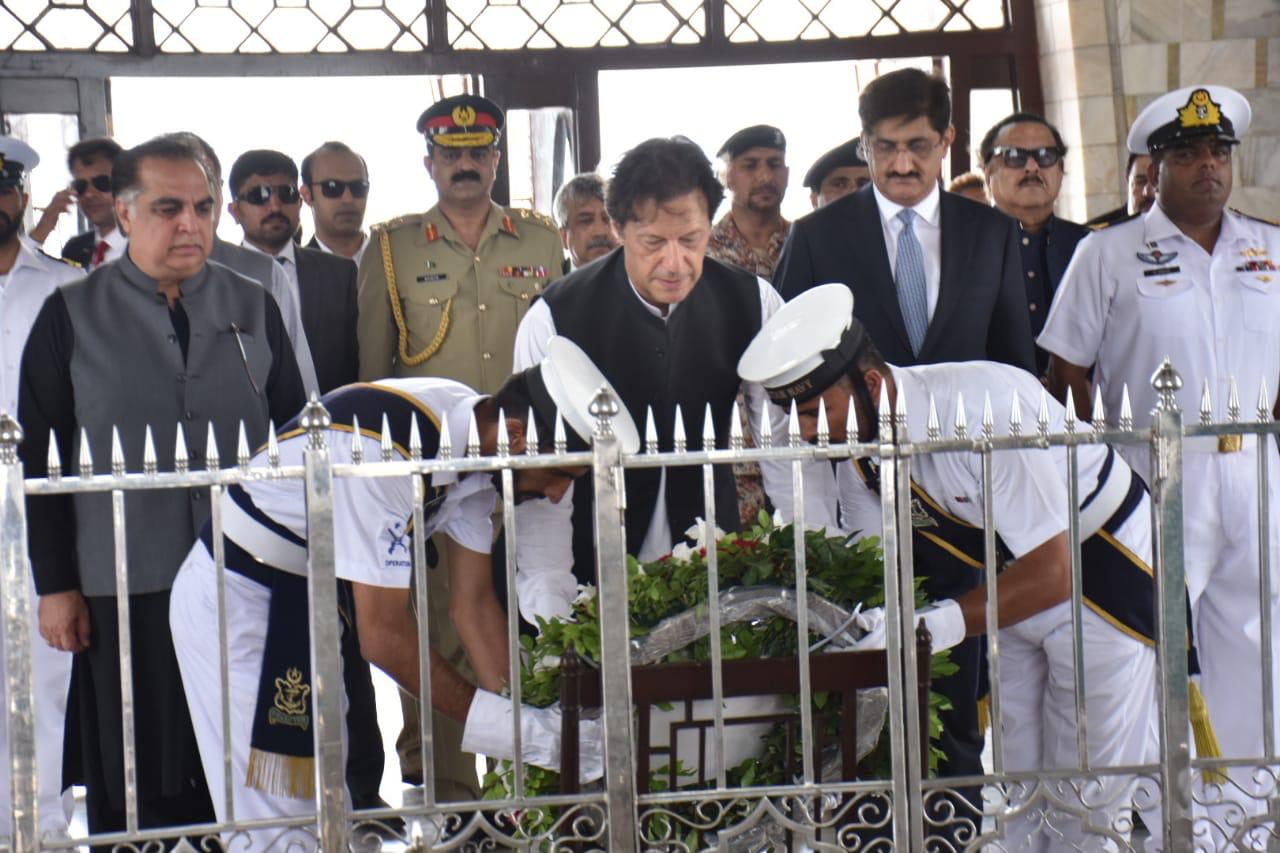 ---
KARACHI: The government will grant nationality to all Pakistan-born refugees of Afghan and Bangladeshi origins, Prime Minister Imran Khan said during his maiden visit to Karachi on Sunday after forming the government.

He also expressed concern over the surge in street crimes in the Sindh metropolis.

Allowing the Sindh government a two-month deadline for cleaning up Karachi, Imran Khan said that otherwise, the federal government would have to intervene and devise a comprehensive plan to rescue the Sindh government.

Imran Khan, who arrived here on Sunday morning on his first official visit to the Sindh capital, was received by the Governor Sindh and Chief Minister Murad Ali Shah at the airport.

He started off his tour by visiting the Quaid's mausoleum before heading to the State Guest House where he planted a tree.

Later, the PM presided over a meeting on the prevailing law and order situation in the city.

Local govts will be allowed to complete term: PM Imran

Representatives of the Sindh police, Rangers and intelligence agencies briefed the prime minister on the security situation in Karachi.

President Arif Alvi also met Prime Minister Imran Khan at the State Guest House.

During the meeting, the prime minister was briefed about the 'Safe city project'.

Later, the PM sought inputs from all stakeholders. He also directed authorities concerned to de-weaponise the city.

PM Imran Khan also reviewed the pace of ongoing development projects under the federal government's Karachi package.

Stressing the need for expediting the pace of work on the Green Line Bus Rapid Transit (BRT) and the K-IV water project, he called for the inclusion of a Karachi Metropolitan Corporation's (KMC) representative in the BRT project.

Later, addressing a fund-raising programme for building the Diamer-Bhasha dam at the Governor's House, he said that although terrorism had been curbed, there was a surge of street crimes in the city.

"There is no social security system and hundreds of thousands of unregistered Afghans and Bangladeshis are living in this metropolis. They cannot get ID cards and passports and this is why they are denied jobs," he said.

Imran to visit China in Nov to 'discuss its progress'

Unemployment, he said, led to rampant criminal activities.

Those Afghan and Bangladeshi refugees who were born here would get National Identity Cards (NICs) and passports.

Appreciating the efforts of Chief Justice Saqib Nisar for initiating the campaign for building Diamer-Bhasha dam, he said that the availability of water per capita had dropped from nearly 5,000 cubic meters to 1,000 cubic meters per year.

He said that the government was unable to finance major water projects because of limited availability of funds at its disposal.

According to him, the government needed to collect Rs30 billion every year to achieve its target over the next five years.

"I am sure that we will (be able to) meet all our targets … I can see (for myself) that the nation has been mobilised," he said.

Citing international statistics, he said that China had built 80,000 dams and was making rapid progress.

"Even India has built several major and small dams, but Pakistan has (built) just two major and 150 small dams."

Prime Minister Imran Khan thanked the people of Karachi for voting for his party.

"I always said that Karachi is PTI's stronghold, but people never believed me," he said, adding that the people of Karachi had learnt a tough lesson over the past 30 years.

Promising to install an industrial waste water plant in the Korangi industrial area, he said that a desalination plant would also be installed under public-private partnership.

He also assured about reviving the Karachi Circular Railways and building the Northern-bypass to ease the city's traffic flow.

Highlighting various environmental problems, he said that massive concrete structures abounded in the city.

"Concrete slabs are … heat traps," he said, adding that the city's master plan needed to be revised. He directed authorities concerned to undertake immediate reforestation in the city.

"We are planning a green Karachi," he said.

If the Sindh government failed to clean up Karachi in two months, the federal would step in and devise a comprehensive plan.

Imran Khan also met Mayor Karachi Wasim Akhtar, representatives of the Muttahida Qaumi Movement (MQM) and Grand Democratic Alliance (GDA).
COMMENTS (9)
Comments are moderated and generally will be posted if they are on-topic and not abusive.
For more information, please see our Comments FAQ