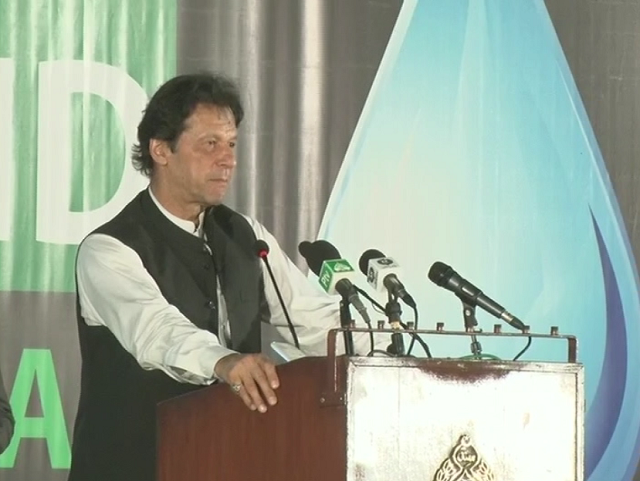 ---
[fbvideo link="https://www.facebook.com/etribune/videos/1421108091354475/"][/fbvideo]

Prime Minister Imran Khan on Sunday said that a target of Rs30 billion has to be met every year for the Diamer-Bhasha and Mohmand dams fund.

He was addressing a fund raising event for the dams fund at Governor House during his maiden day-long trip to Karachi after assuming charge of the PM office.

"I am the greatest fund raiser in the history of Pakistan," PM Imran stated. "I assure you that we have to meet our target of 30 billion rupees every year and we will meet more than our target as all Pakistanis have been mobilised today."

PM lauds role of Rangers, police for restoring peace in Karachi

The prime minister pointed out that when a nation and it's government unites then nothing is impossible. He gave an example how Japan and Germany were destroyed in the World War but are standing on their feet now.

"We have to get together to collect funds for the dams. 80 per cent of water is wasted in Pakistan. I appeal to all Pakistanis to get together. We can build dams in five years if the donations continue," he added.

Calling the Karachiites as 'the most politically educated class of the country', PM Imran thanked the citizens for hosting him.

PTI MNA Aamir Liaquat barred from meeting PM Imran in Karachi

"Prosperity of the country depends on Karachi," he said. "We will make a master plan for Karachi. Will start forestation wherever we find place."

While taking a jibe at the Sindh government, PM Imran said he will give them two months to clean the city's garbage after which they will be pressed by the federal govt to solve the issue.

Before concluding his address, the premier said,"When the govt and nation get together then dams will be built and the loans will be repaid."