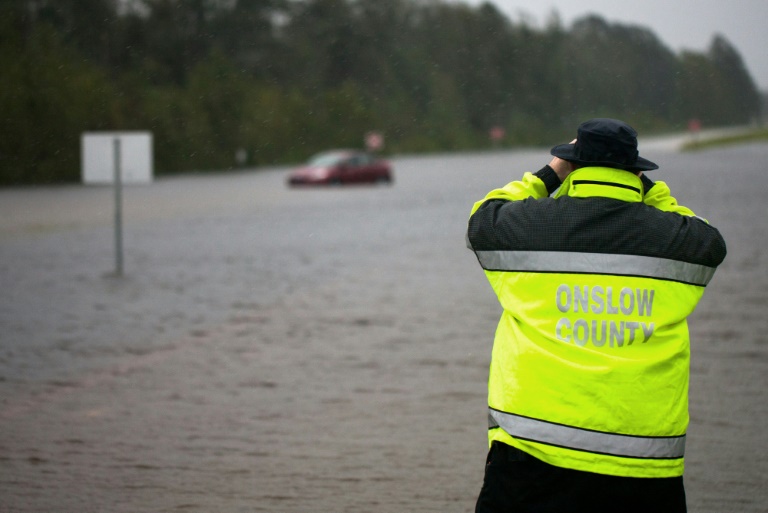 ---
Authorities on Saturday warned residents displaced by a killer hurricane against returning home, as storm Florence dumped "epic amounts of rainfall" across the eastern United States, resulting in life-threatening flooding.

North Carolina Governor Roy Cooper told reporters that five deaths have been officially confirmed in his state, with several more under investigation.

The figure included a woman and her baby killed when a tree fell on their house.

Florence made landfall Friday as a Category 1 hurricane but has since been downgraded to a tropical storm, even as it continued to wreak havoc along the East Coast, downing trees and power lines and forcing 20,000 people to flee to shelters.

Cooper had a stark warning to any residents considering returning to their flooded home towns.

Four dead as Florence unleashes torrential floods on Carolinas

"Don't go back until this storm passes and you get the official all clear," he said.

"Second, know that water is rising fast everywhere, even in places that don't typically flood. This system is unloading epic amounts of rainfall: in some places, measured in feet, not inches."

He said residents should "expect flooding and potential landslides tonight and into Monday," and warned against driving in the water "no matter how confident you feel or how much you want to get out of the house."

In a separate briefing, Steve Goldstein of the National Oceanic & Atmospheric Administration (NOAA) said some areas have already received two feet of rain and could expect up to 20 inches more as the system moved "slowly, nearly stationary" over eastern North Carolina.

In New Bern, a riverfront city near the North Carolina coast that saw storm surges up to 10 feet (3 meters), authorities were rescuing stranded residents and taking stock of damages.

"Right now we've rescued over 400 people. We still have about 100 that want to be rescued and we have about 1,200 in the shelters," Mayor Dana Outlaw told CNN.

"We have 4,200 damaged homes," he added, urging residents to not wade out into the streets because of the dangers posed by downed power lines.

The mother and her baby were killed in New Hanover County when a tree fell on their house, North Carolina Governor Roy Cooper told media late Friday.

Firefighters said the area had not been in the zone under evacuation orders.

Local authorities reported a death in Pender County when downed trees prevented emergency units from reaching a woman with a medical condition. Local media said she suffered a heart attack.

US media later said a man in Lenoir County died after heavy winds knocked him down as he tried to check on his dogs.

Hurricane Florence smashes into US East Coast, rescuers scramble

More than 800,000 customers in North Carolina were without power and 21,000 people were being housed in 157 shelters across the state.

The White House said President Donald Trump would visit hurricane-hit areas next week "once it is determined his travel will not disrupt any rescue or recovery efforts."

"Great job FEMA, First Responders and Law Enforcement - not easy, very dangerous, tremendous talent. America is proud of you," Trump tweeted on Friday, referring to the Federal Emergency Management Agency, which responds to disasters in the United States.

As of 11:00 am (1500 GMT), maximum sustained winds had weakened to near 45 miles (75 kilometres) per hour, but the NHC warned residents of dangerous storm surges and "catastrophic flash flooding."

The military announced Saturday it was deploying nearly 200 soldiers to assist in storm-related response and recovery efforts, along with 100 trucks and equipment.

Besides federal and state emergency crews, rescuers were being helped by volunteers from the "Cajun Navy" - civilians equipped with light boats, canoes and air mattresses - who also turned up in Houston during Hurricane Harvey to carry out water rescues.

Hurricane Florence made landfall Friday in Wrightsville Beach, North Carolina, after stalking the coastline for days.

Tornadoes remain a threat, with the NHC saying that "a few tornadoes are possible in southeastern North Carolina and northeastern South Carolina."

In Wilmington, near where the eye of the storm touched down, trees and power lines were felled and many windows broken. The streets were mostly deserted, some blocked by fallen trees.

About 1.7 million people in North Carolina, South Carolina and Virginia are under voluntary or mandatory evacuation orders, and millions of others live in areas likely to be affected by the storm.