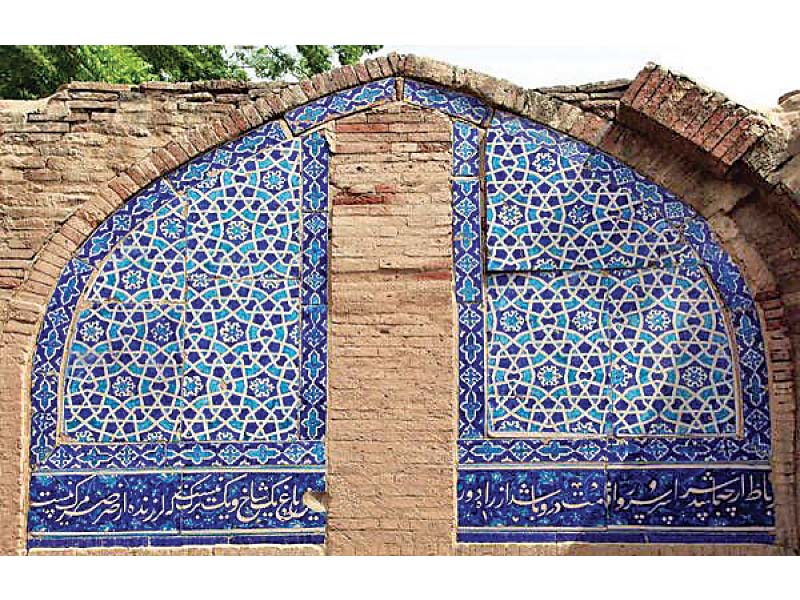 ---
MULTAN: The 16th century AD architectural masterpiece, Sawi Mosque at Kotla Tolay Khan in Multan, stands restored since April 2017. However, hard struggle by officials could restore the Persian poetry on its tiles' panels only partially.

Historian Ahmad Nabi Khan said: "The first historic mosque which still exists, though much renovated, is the Sawi Mosque, built by Nawab Saeed Khan Qureshi, a noble from Mughal Emperor Akbar. However, another research said: "It was built in 906A.H/1500 A.D during the last days of Lodhi rulers by two Muslim builders Ustaad Ahmad and Ustaad Syed Ismail al Hussaini, son of Jeeven Multani.

Panels of tiles adorned in blue Kashikari designs also carried poetry work of renowned Muslim scholars, intellectuals, and poets like Maulana Nurud Din Abdul Rahman Jami and Hazrat Abu Saad Al-Khair.

"When we started work on the preservation of around 400-500 years old mosque back in Dec 2014, everything went smoothly. But things got tough when it came to restoring panels on almost all sides of the mosque's interior and exterior," said Malik Ghulam Muhammad, In charge Multan Archaeology Department. These panels were inscribed with 'Rubayees' of the noted Muslim scholars and poets and each panel carried two lines. Some of these panels were found to be in shape with Persian poetry visible and these were fixed as they were but most of them were chipped off and damaged. Officials consulted college professors and Persian teachers and it helped. However, real success came when a medical representative who knew Persian advised Google search, he added.

Over two centuries old: Bhabra Bazaar buildings a relic of past

"I spent almost three months spending hours on a daily basis, remaining glued to a computer monitor, in search of missing lines through Google," the official said. He added that he downloaded 26 Persian poetry books of different renowned Muslim poets during this search. He also heaped praise on an unknown person who fixed all the fallen panels inside a wall, though, in the jumbled pattern. And these tile panels helped them find the missing lines. He said he used to type a Persian line in Urdu script, then translate it into Persian and then paste it on Google. "I clicked and Wow, it was amazing." "All the lines before and after that verse appeared in the Persian language."

This way, 14 missing lines of Maulana Jami (Khirad Nama Sikandari, Haft Aurang, Jami) were restored on the panels on the southern interior side and three more on the eastern side (South to North). Another five and a half verses or lines restored on the northern interior side of the mosque (East to West) and three more on the east-west side.

The panels also carried Rubayees of Hazrat Abu Saeed Al-Khair and his poetry proved handy in restoring the missing Persian poetry lines, one verse on the eastern side of the southern wall (East Southside) and 14 verses on seven panels were restored on the southern exterior of the mosque (east to West). "But then it turned out it was all Google could do for them because there were some lines which Google failed to bring forth any Persian poetry work of Muslim poets of olden days," Muhammad said, adding 15 more lines or verses were still missing, including 14 on the northern exterior wall and one on a turret (bastion).

"The project is now complete at a cost of Rs2.739 million, below the approved cost of Rs3.114 million, as far as its architectural details are concerned. However, preserving a monument is like preserving the history and this goal would be achieved when we find the remaining missing lines and install them on the edifice as inscriptions on the panels."

Published in The Express Tribune, September 15th, 2018.