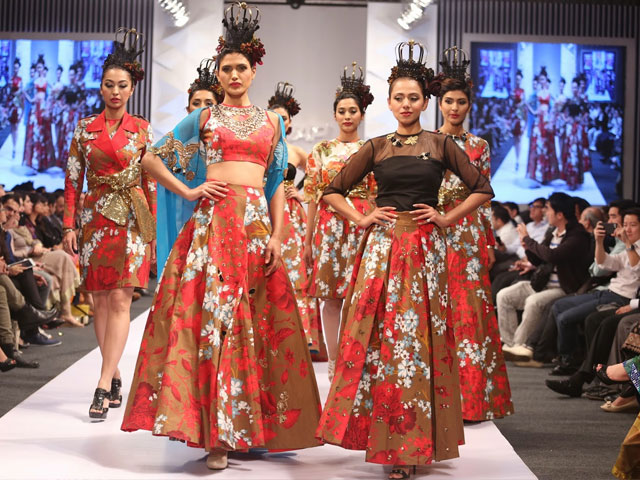 ---
KARACHI: Back in 2006, a leading global beauty brand introduced a 'Real Beauty' campaign titled Evolution. Needless to say, the 75-second advertisement video showcasing women of all shapes, sizes and colours instantly went viral.

Why, you might ask? Well, for decades, we've only been shown advertising campaigns featuring models with a certain look - a trend, some would call it.

This includes no belly fat, no cellulite, no stretch marks, a definite thigh gap and preferably, rock hard abs as well. These were - and still are - some of the specifics designers and brands sought while deciding who to cast in their campaigns.




But with Evolution, especially since it came at a time when the conversation about diversity and inclusion hadn't quite gained as much momentum as it has today, we saw real women; women we could all relate to. And boy, was it refreshing!

Fast forward 12 years and the fashion world is still largely struggling to come to terms with the idea of an overweight model at the forefront. It wasn't until Ashley Graham graced the cover of Vogue US's New Years issue in 2016 that things started to change.




"For 10 years, I'd been told I was always going to be a catalogue girl, never a cover girl. Well, I got with IMG (one of the biggest client management companies for models) and did five covers in a year, boom, boom, boom,"  she said in an interview with the publication.

A size 12, Graham acknowledged her curvy physique and was unapologetic about it. In fact, she built a career out of it, thereby inspiring millions of women to accept themselves as they are.




"When we're supposed to be talking about diversity for women, it feels so divisive and purpose-defeating, giving us yet another label," Graham added. "Do I sometimes wish I were thinner? God, in the old days, absolutely I did. But now, I feel that to lose weight would be disloyalty to myself. A lot of who I am is connected to my size and I am so happy with who I am."




Of course, this journey from catalogue to cover girl wasn't easy but it opened several doors for other plus-size models and literally put the weight behind the inclusion debate.

Many international beauty companies and fashion houses have been following suit. Words such as 'fat-shaming' and 'diversity' have become part of fashion jargon. Showbiz bigwigs like Rihanna have launched makeup and lingerie lines to suit different skin and body types. Most recently, E! Online's enlisted "full bodies on the runway" as one of the top trends of the ongoing New York Fashion Week Summer Spring 2019.

Unfortunately, this is still a foreign concept here in Pakistan. Granted, ours is still a nascent fashion industry but skinny is the way to go if you want to be considered good looking here, especially in the fashion world. In fact, a waif-like physique is almost a prerequisite, it seems.

That is why designer Cheena Chhapra's showcase at Fashion Pakistan Week (FPW) earlier this year was ground-breaking for the industry. The display featured not just plus-sized but old and pregnant models as well, thus telling the world that what matters is how one carries themselves - not their physicality.




In this striking show of support, Chhapra sent 'real' women down the ramp, dancing, laughing and looking absolutely stunning. She had but one aim on her mind and that was to make pret wear for bigger women.




"When I was in college, I used to see different women having the same problems whenever they used to shop. The sizes weren't really available. And as a plus-size woman myself, I've experienced the same issue myself," Chhapra told The Express Tribune. "But every woman has the right to look beautiful, no matter her size or colour. You can't take that away from her. And that's what I set out to achieve."

But glorious as it was, Chhapra's attempt at evoking new thought didn't manage to spark the desired trend in Pakistan. Her fellow fashion designer Deepak Perwani explained it might be a while before we see plus-sized models become mainstream.




"Well, we're a new industry and you can't compare it to the one overseas. I mean, there are so many categories when it comes to fashion over there. But Pakistan isn't an obese country. Therefore, you can't really cater to plus-sized people," he opined. "But Cheena Chhapra's collection was indeed an initiative."

Nomi Ansari cited regressive norms for the rampant fat-shaming in society. "I've been in this business for 18 years now and we've always catered to clients of any size," he said. "Similarly, we have always made clothes which are heavier. For instance, if any of our clients like a dress that has been prepared in an extra small size, she'd know that if we make it for her, the quality of the dress itself will not be compromised."




"But oh, you have to understand that it's not easy to put plus-size models or 'real women' as you called them, on runways," Ansari added. "You have no idea the kind of comments and hate some of our clients have received just on our social media posts."

The 'Master of Colour' recalled how he did try to include 'real people' in one of his shows a few years back. "Four or five  years ago, I did a show with almost 20 to 25 artists. There was Meera, Ahmed Ali Butt and Nadia Hussain , who was pregnant at that time but walked the ramp. There were so many other artists as well. They were real people, they all had varied body styles and everyone loved that show!" he shared. "Of course, if you're bringing 'real women' to the ramp, you have to make sure to do it in a manner that's not insulting. You can't have a debacle on that ramp. It's just not how fashion works."




Fashion mogul Frieha Altaf believes Pakistan suffers from a regressive idea of beauty. "It's not just the size," she commented. "Here in Pakistan, we're still struggling with common concept of beauty. It's not just that women have to be petite, they have to be fair as well!"

Altaf continued, "The thing is that we like to take our time with everything. So, to think that full body models will be making an appearance on ramps anytime soon seems like a distant happening."

According to the former model, it is ignorant on our part that we only tend to prefer to the delicate, fair, rosy young girl. "That's why Cheena's collection was riveting! It was so beautiful to see those real women up there," she added.

"What we need to understand is that beauty varies beyond that cliched image that exists in Pakistani minds. It's every size, every shape, every colour! It's about time we accept that," concluded Altaf.

Looks like it'll be a long time before Pakistanis warm up to the idea of heavier models shaping their deeply-rooted ideals.

Have something to add to the story? Share it in the comments below.