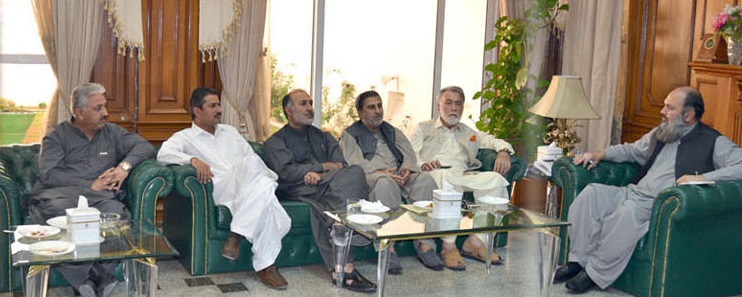 ---
QUETTA: Balochistan Chief Minister Jam Kamal Khan has said opposition parties will be taken into confidence before taking any provincial decision.

"We respect the opposition parties' stance and their suggestions will be included in the provincial government's affairs," said the chief minister during a meeting with the opposition parties at the CM House on Thursday.

Provincial Minister Asghar Khan Achakzai, Sardar Saleh Bhootani, Sardar Abdul Rehmant Kethran and other government officials were present.

CM Kamal buckles down to mend education system

Kamal said, "The provincial government seeks to set a precedent where government and opposition can walk together for Balochistan's development."

The opposition delegation, comprising Malik Sikandar Advocate and Nasrullah Zeeray, assured the provincial government that the opposition would support all government's initiatives in favour of the people of Balochistan.

Expressing concern over previous regimes' agreements over Pakistan Petroleum Limited and Saindak projects, the opposition members urged the chief minister to review the projects, including the Public Sector Development Programme funds.

Balochistan CM issues orders for formation of standing committees

The meeting unanimously decided to initiate liaison with the federal government over exploitation of provincial rights in the China-Pakistan Economic Corridor-related projects, including changing western route and building economic zones in Balochistan.

"The provincial government will take onboard all opposition parties in making any decision because we want to walk with the opposition in all government affairs," said the chief minister, adding that in light of the opposition's stance the provincial government would form an effective land policy to ensure the protection of land owned by various tribes.

On his government's performance, Kamal said, "The experience from our first 20 days has revealed that the province is facing issues due to flawed government affairs.

New CM Kamal sinks his teeth into provincial affairs

"Development projects were initiated in some areas of the province while the rest of the areas were ignored. If our predecessors would have made sincere efforts, 70% of Balochistan would have been developed," said Kamal, reiterating that the neglected areas would be developed on priority to balance development.

Assuring opposition members that steps will be taken regarding PSDP, Kamal said, "Following the order of the Balochistan High Court, the provincial PSDP is being reviewed but the issue can be discussed in the provincial assembly also." Kamal suggested that the CM inspection team could be tasked with inspecting the development schemes.

The opposition members informed the chief minister regarding issues in their respective constituencies, urging the provincial government to resolve them.

The CM assured the opposition members that the provincial government would address their issues, saying all parties in the assembly would be equally treated.

On numerous challenges, including financial crisis, being faced by Balochistan, Kamal urged all stakeholders to unite for tackling future woes and ensuring development of the province.