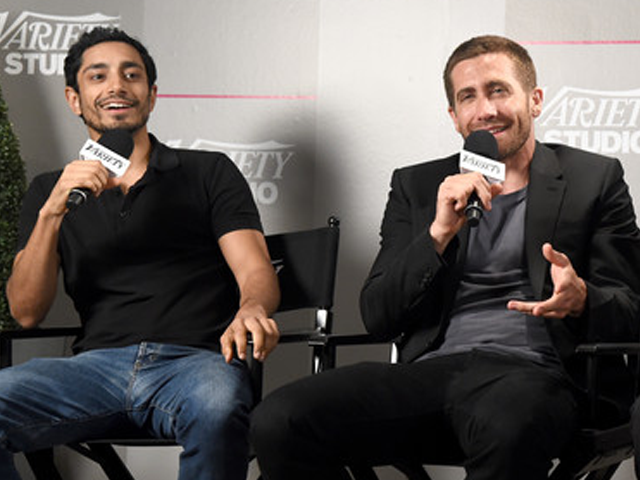 ---
British-Pakistani star Riz Ahmed has been talk of the town since his brilliant performance in thriller-drama The Night Of.

Before that, he was making headlines for Nightcrawler. The Emmy- winner had his first interaction with famed Hollywood actor Jake Gyllenhaal during the filming of the very same venture.

The duo is now reuniting for Jacques Audiard's cowboy thriller The Sisters Brothers. The film was recently screened at the Toronto International Film Festival (TiFF).




In a recent interview, Ahmed and Gyllenhaal talked about working together for the second time. "He (Ahmed) still gets the roles, but I guess he auditioned for Jacques for the role and then it was just this surprise to the two of us that we were working together again, a funny surprise," the Danny Darko actor remarked.

"But you know Riz and I both,I say this about Jacques, I have said this before, but in my family, we always say family comes first, except if Jacques Audiard calls, and that is how I feel about Jacques and I think Riz does too. I think both of us were so excited to be in that group of people and we shared that similarity," Gyllenhaal added.




Ahmed, on the other hand feels it is easy to share screen space with his former co-star.

"Jake and I were joking that it felt like a sequel for us, because we're a double act again and we're on the road, but instead of a car, we're on horseback," the Englistan writer laughed.

Ahmed added, "I guess it's interesting working with the same people again several times. You develope a shorthand, some of that whole getting to know each other stuff you can just get past. That was cool creatively, just having a common ground to start off with."




"But it was interesting that the dynamic was reversed almost from Nightcrawler, or at least it was a bit blurrier in terms of who was in charge or who was guiding them," concluded the Star Trek actor.

Talking about his role in his recent release, Ahmed commented, "Hermann Kermit Warm was written as a 55-year-old white dude. And I'm playing him, you know? When I started out, I wasn't sure I'd ever get to be a cowboy in a Western. That's what I am now."

The Sisters Brothers also stars Joaquin Phoenix and John C Reilly.

Have something to add to the story? Share it in the comments below. 
COMMENTS
Comments are moderated and generally will be posted if they are on-topic and not abusive.
For more information, please see our Comments FAQ