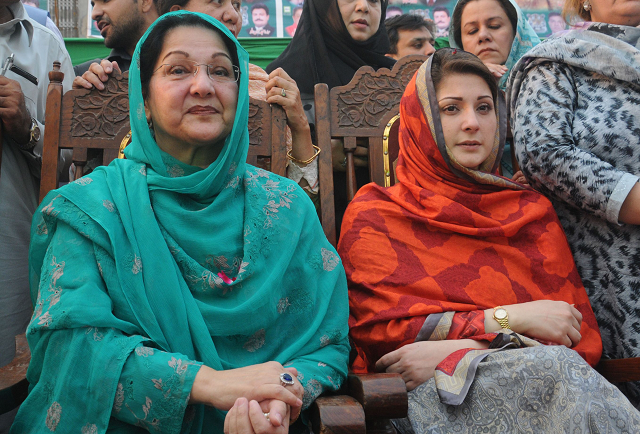 ---
Begum Kulsoom Nawaz, wife of deposed premier Nawaz Sharif, passed away in London on Tuesday after suffering from complications related to cancer.

Begum Kulsoom contested and won from NA-120, a traditional bastion of the Pakistan Muslim League–Nawaz (PML-N) after the seat fell vacant following Nawaz's disqualification by the Supreme Court in the Panama Papers case.

In memoriam: Kulsoom Nawaz

Prime Minister Imran Khan offered his condolences on Begum Kulsoom's demise and said that incarcerated members of the Sharif family will be facilitated in whichever way the law allows, said a press statement issued by the Prime Minister Office read. The government will also reach out to the Pakistani High Commissioner in the United Kingdom to facilitate Sharif family members there.

Members of the Pakistan Bar Council, in a press release, extended their condolences over the sad demise of former premier's wife. They also prayed "Almighty Allah for resting the departed soul in eternal peace and granting fortitude to the bereaved".

Chief Justice of Pakistan Mian Saqib Nisar expressed deep sorrow and grief on the sad demise. The official statement said that the Justice Nisar prayed to Almighty Allah to shower His blessings upon the departed soul.

Begum Kulsoom Nawaz passes away in London

Social media users took to Twitter to offer condolences to the Sharif family on their loss.


Sad to learn of Begum Kulsoom Nawaz's death. She was a courageous woman of great dignity and confronted her disease with fortitude. My condolences and prayers go to the Sharif family.

— Imran Khan (@ImranKhanPTI) September 11, 2018
I express my sincere regrets on the sad demise of Begum Kulsoom Nawaz. My condolences to the Sharif family on this loss. May her soul rest in peace

— The President of Pakistan (@PresOfPakistan) September 11, 2018
میری بھابھی اور میاں نواز شریف صاحب کی اہلیہ بیگم کلثوم نواز اب ہم میں نہیں رہیں، اللہ تعالٰی انکی مغفرت فرمائے۔
ﺇﻧَّﺎﻟِﻠّٰﻪ ﻭﺇﻧَّﺎﺇﻟَﻴْﻪِ ﺭَﺍﺟِﻌُﻮْﻥ

— President PMLN (@president_pmln) September 11, 2018
We are Deeply saddened to hear the news of Kulsoom Nawaz's passing.
Our sincere condolences and prayers. May her soul rest in peace. #KalsoomNawaz

— Tehreek-e-Insaf (@InsafPK) September 11, 2018
نہایت ہی افسوسناک خبر، انا لللہ وانا الیہ راجعون۔
۔ اللہ پاک مرحومہ کو جنت الفردوس میں جگہ عطا فرمائے pic.twitter.com/yXrKI1mOTl

— Sheikh Rashid Ahmad (@ShkhRasheed) September 11, 2018
إِنَّا لِلّهِ وَإِنَّـا إِلَيْهِ رَاجِعون

COAS expresses his grief and heartfelt condolences to the bereaved family on sad demise of Begum Kulsoom Nawaz. "May Allah bless the departed soul eternal peace at Heaven-Amen", COAS.

— DG ISPR (@OfficialDGISPR) September 11, 2018
Deeply saddened to hear about the demise of the former First Lady of Pakistan Begum Kalsoom Nawaz. Heartfelt condolences to all her family and prayers for the departed soul. Her political struggle and courage will be remembered.

— Malala (@Malala) September 11, 2018
پاکستان تحریک انصاف کلثوم نواز کے انتقال پر گہرے دکھ اور افسوس کا اظہار کرتی ہے اور شریف فیملی کیلئے دعا گو ہے کہ اللہ ان کو صبر عطا فرمائے۔ pic.twitter.com/EApLC85IMH

— Tehreek-e-Insaf (@InsafPK) September 11, 2018
ﺇﻧَّﺎﻟِﻠّٰﻪ ﻭﺇﻧَّﺎﺇﻟَﻴْﻪِ ﺭَﺍﺟِﻌُﻮْﻥ pic.twitter.com/Pzs2FBVURR

— PML(N) (@pmln_org) September 11, 2018
میاں نواز شریف صاحب کی اہلیہ کلثوم نواز صاحبہ کے انتقال پر بیحد دکھ ہوا۔ اللہ تعالیٰ سے میری دعا ہے کہ وہ مرحومہ کو جنت الفردوس اور نواز فیملی کو صبر جمیل عطا کرے ۔ غم کی اس گھڑی میں اور کشمیری عوام ان کے ساتھ ہیں

— Mirwaiz Umar Farooq (@MirwaizKashmir) September 11, 2018
Very sad news of Begum kulsoom Nawaz passing away.. may Allah grant her maghfirat... May Allah give sabr to her family

— Sharmila faruqi (@sharmilafaruqi) September 11, 2018
Very tragic news of Begum Kulsoom passing away in London. My heartfelt condolences to the entire PMLN family especially @MaryamNSharif. She was a wife & mother but also a First Lady of Pakistan & deserves the nation's respect. May she rest in peace.

— Bakhtawar B-Zardari (@BakhtawarBZ) September 11, 2018
Endowed with rare grace and formality Begum Kulsoom Nawaz fought the battle of life with courage and poise also leading the party in difficult times. The images of her defiance of Musharraf will remain alive for a long time. May her soul rest in eternal peace.

— Farhatullah Babar (@FarhatullahB) September 11, 2018
May Begum Kulsoom Nawaz rest in peace and may Allah give her family solace. She was a brave and dignified lady. It is tragic that her husband and daughter were prevented from being with her when she needed them most.

— Najam Sethi (@najamsethi) September 11, 2018
Allah kalsoom nawaz ki maghfirat farmaien Ameen

— Yasir Abdul Hameed (@Yasir_HameedQ) September 11, 2018
RIP Kulsoom Nawaz
Dissenter against dictatorship, courageous Pakistani, author, stood as a rock with her husband #NawazSharif through tough timeshttps://t.co/NVSJqDddTl pic.twitter.com/Twj9gq0rrB

— Engr. Khurram Dastgir-Khan (@kdastgirkhan) September 11, 2018
Deeply saddened to hear the news of Begum Kulsoom Nawaz's passing. May ALLAH rest her soul in peace and give enough strength to family to cope with this huge loss.

Inna Lillahi wa inna ilayhi raji'un

— Faisal Javed Khan (@FaisalJavedKhan) September 11, 2018
My condolences to the Sharif family on the sad demise of Begum Kulsoom Nawaz. May Allah grant her Eternal Paradise and give her loved ones the strength to cope with the tragic loss. Ameen. Expecting early bail on humanitarian grounds for Mian Nawaz Sharif, Maryam and Capt. Safder

— Syed Ali Raza Abidi (@abidifactor) September 11, 2018
Inna lillah hai wainna alaihay rajeoon Begum Kulsoom Nawaz has passed ( RIP) deepest condolences to the family.

— salman ahmad (@sufisal) September 11, 2018
So sad so unfortunate Begum Kulsoom Nawaz death . My condolence with the family .Imran khan Govt must release Nawaz and Maryam on Parole without delay .

— Nabil Gabol (@Nabilgabol) September 11, 2018
Kulsoom Nawaz passes away in London losing her fight with Cancer.

— Ali Moeen Nawazish (@am_nawazish) September 11, 2018
Sad to know about the demise of Kulsoom Nawaz Bibi. Her struggle against the dictatorship of Gen Musharraf will be remembered forever. May her soul rest in peace.

— Mian Iftikhar Husain (@MianIftikharHus) September 11, 2018