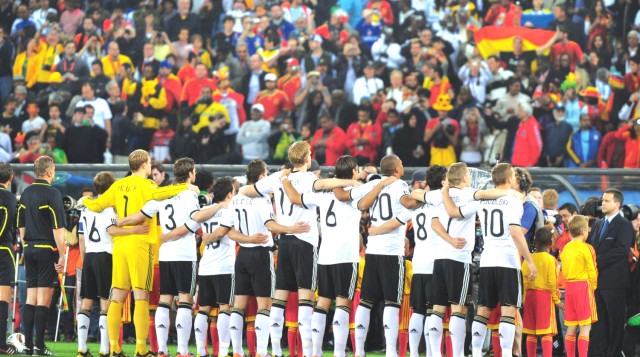 ---
JOHANNESBURG: There's a building on the main road in Johannesburg's most affluent business district, Sandton, which houses a designer furniture store. As with most companies of its nature, it's usually painted cream and white with attractive decorative signage.

Not this month. Two weeks ago, it swapped it's serious tones for something a lot more trendy. It's now painted in the colours of the South African flag: bright blue, red, green and yellow with a hint of black. That's not because it's hoping to attract a funkier crowd of furniture buyers but because of the event that's just nine days away - the first time a football World Cup will be held n South Africa.

The flag has become a huge symbol of enthusiasm for the tournament. It's everywhere. From being draped over and hung from office blocks, apartments and restaurants to miniature versions being used as mirror covers or put onto thin sticks and attached to cars and buses. Hawkers have crossed over completely into flag trade, leaving many wondering what they will sell when the tournament finishes.

Such is the flag-mania that Katherine Barrow, a schoolteacher and having little interest in the sport said, "I'm going to get a flag for my car as well. The atmosphere just calls for it, even though I probably wouldn't know a football if it hit me on the head."

It is this type of feeling which will have the tournament Organising Committee Chief Executive Officer Danny Jordaan pleased. In January, he called for the South Africans to show "more enthusiastic for the World Cup" and although it has taken some time for that to happen, it has redeemed itself massively for the sluggish start.

The introduction of Football Fridays, in which South Africans were encouraged to wear the national team Bafana Bafana's replica jersey, has become contagious. Television reporters, government ministers and even President Jacob Zuma were seen in the gold and green kit, with some people even donning the national jersey on other days. The popular vuvuzela (blowing horn) used in stadiums can be heard sounding its call almost anywhere and members of the Gauteng legislature were blowing their horns ahead of the opening of the provincial parliament.

Bafana Bafana have played four friendly matches at different venues around the country, one of those at the venue that will host the opening match and the final - Soccer City. That match took place in front of a sell-out crowd of 75,000. The national flag was even more prominent there than it is painted onto a building on the side of the street, perhaps a sign of things to come.



Firdose Moonda is a freelance  journalist based in Johannesburg

Published in the Express Tribune, June 2nd, 2010.
COMMENTS
Comments are moderated and generally will be posted if they are on-topic and not abusive.
For more information, please see our Comments FAQ