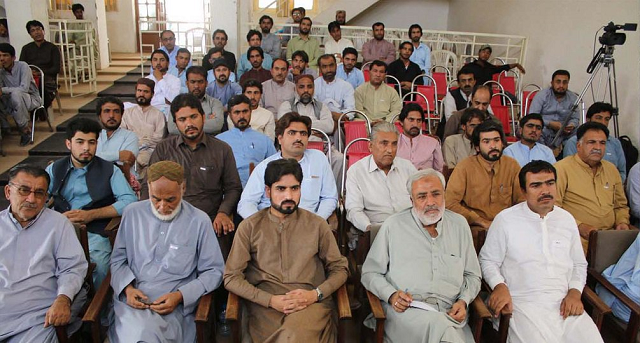 ---
QUETTA: Munir Ahmed Badini has rendered matchless services for the promotion of Balochi language and literature in his novels and fictions by highlighting social, political, historical and tribal issues and his literary contribution is a huge asset for Balochi literature.

Speakers from different walks of life expressed these views while presenting papers on renowned Balochi novel and fiction writer Badini during a day-long literary seminar organised by Zind Academy to pay homage to his literary services. Badini has written more than 100 novels, short stories and dramas besides receiving presidential and other awards on account of his literary services.

Mushaira, storytelling top features of AIOU literary carnival

Former Balochistan chief minister Dr Abdul Malik Baloch was the chief guest.

Addressing the participants, he said, "Organising such a wonderful seminar is highly appreciable. Badini is a new name in fiction. He writes whatever he feels and sees in society. He is basically a humanist and this factor can easily be seen in his novels."

Dr Malik, who is also a writer, said that the existence of "Baloch" could only be protected when "we value our language and culture" besides speaking Balochi and Brahvi languages. "If our institutions produce qualified people, it will help us a lot in progressing and developing," he observed.

Dr Malik said the Noshki region had given birth to a number of prominent names like Gul Khan Naseer, Abdul Jan Jamaldini, Azat Jamaldini and Munir Ahmed Badini.

"Just like Gul Khan Naseer gave a name and shape to Baloch, Munir Ahmed Badini has also played a big role in contributing to the promotion of Balochi language and literature," he noted. "If anyone does not know Munir Ahmed Badini, it's a matter of grave concern."

He said patriotism was to love ones mother language because "if our mother tongue is alive then we are alive". "Sindhis love their language and culture; therefore, their literature is grooming despite all constrains and challenges," he said, adding that local languages need state assistance to groom and develop.

Mother Language Day: 'Imported' education system, language destroyed local identity

Paying rich tribute to the literary services of Badini, Noshki Deputy Commissioner Abdul Razzaq Sasuli said, "The people of Noshki are lucky to have people like Badini. Noshki and Kech are those districts where literary figures played a great role for promotion of language and literature, thus it is our responsibility to love and value our literary figures."

The local administration always stands ready to help promote, health, education and literature, said Sasuli.
"If we value our local languages it will help build our careers. In PCS exams, language paper is compulsory while you can also select language in CSS exams. If we can obtain 75 percent marks in English paper then why not in our own languages," said the deputy commissioner.

Sasuli, who is a young and energetic person, said that he was trying his level-best to ensure provision of basic facilities to schools and the district hospital, adding that only those nations succeed that believe in wisdom. "After 80 years, we all will die, but the literary work of Badini will be alive till end," he added.

Noshki District Chairman Aurangzeb Jamaldini said, "Badini is a great name for the entire Balochistan and Noshki is quite fortunate to have produced many prominent names in literature and politics.

"The local government is making all possible efforts for ensuring basic facilities at schools and hospitals and provide a conducive environment for promotion of literature," he said, adding that with minimum insufficient funds, the local government was trying to renovate libraries and schools.

Seminar: Literature-based academic research stressed

Yar Jan Badini, head of Zind Academy, thanked the local administration, especially the Noshki DC, for helping in arranging a seminar to fulfil his dream of paying rich tributes to Munir Ahmed Badini.

He said recently UNESCO had issued a report on the number of publication of books in the entire world in which Pakistan stood slightly better than Afghanistan where unrest was prevailing for the last three decades while those published in India and other European countries was much higher.

Lauding the literary contribution of Badini, he said that writing more than 100 novels in a short period of time was not an easy task.
Professor AR Dad, Rahim Mehar, Sharif Mir, Ghulam Dastagir Sadiq, former chairman Rasko Adabi Dewan Malik Akram Mengal, Mujahid Baloch, Latiful Mulk Badini, Dr Alam Ajeeb and Bari Baloch also addressed the seminar.

They paid rich tributes to Munir Ahmed Badini and presented their views and papers on different aspects of Badini's literary services and novels.

Pakistan literary festivals tell a tale of cultural revival

The chair of the event, Munir Ahmed Badini, thanked Zind Academy for organising such a great seminar in his home district Noshki, saying the contribution of Yar Jan Badini was significant as it was he who took his novels to Kenya and other parts of the world.

Badini said though he has written more than 100 novels and short stories he was not satisfied with his work. "When a writer is satisfied with his work he will no more be able to write," he added.
He said he had toured different parts of the country, especially Balochistan, but loved the dry plains, deserts and mountains of Balochistan. "While travelling all over Balochistan, I used to stop and watch sunsets and listen to the sounds of waves," he said, adding that he decided to describe Balochistan from the inside.

Badini said the Baloch nation was very lucky because it had its own language, culture and literature. "I still need to go a long way because I want to write what I have not yet written," he added.
COMMENTS
Comments are moderated and generally will be posted if they are on-topic and not abusive.
For more information, please see our Comments FAQ