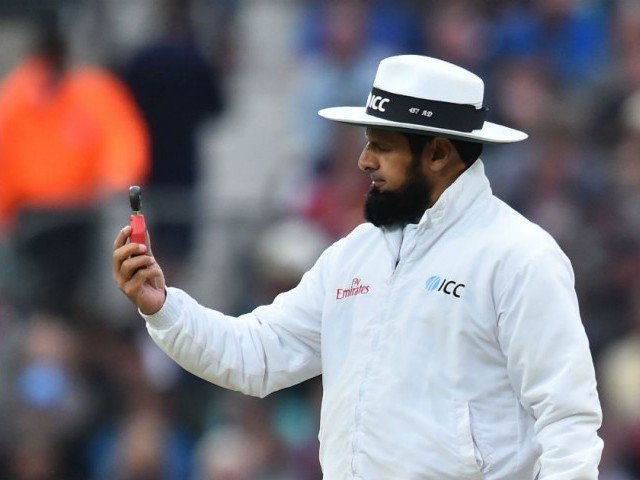 ---
Pakistan umpire Aleem Dar has announced that he is going to contribute $10,000 to the dams fund project.

"I have decided to contribute $10,000 for the dams fund initiative," he said in a video message.

Dar is amongst International Cricket Council's (ICC) Elite Panel of Umpires and has officiated in 300 international matches across all three formats.


After Sethi's departure: Franchise owners concerned about PSL future


Dar also appreciated the efforts put in by the concerned authorities in this regard by stating: "I appreciate the efforts put in by Chief Justice of Pakistan [Mian Saqib Nisar] and government of Pakistan to construct dams in Pakistan."

He further said: "This initiative is going to be a serve as a great benefit for us and our coming generations in the future," he said. "I would request people in Pakistan and those living overseas to come forward and contribute funds generously for this cause."

Meanwhile, Speaker National Assembly Asad Qaiser, Deputy Speaker NA Qasim Khan Suri and Governor Sindh Imran Ismail aslo pledged to donate one-month salary to the PM-CJ dam fund.

Taking to Twitter, Qaiser encouraged the nation to "enthusiastically participate in the dams' construction campaign." "The nation will have to take steps for storage of water, as it is a great divine blessing and human need, which must be valued."


میں اپنی پہلی تنخواہ وزیراعظم اور چیف جسٹس ڈیم فنڈ کے لئے عطیہ کر رہا ہوں اور تمام پاکستانیوں سے اپیل کرتا ہوں کہ اپنے بچوں کے مستقبل کو بچانے کےلئے اس کار خیر میں حصہ لیں

— Asad Qaiser (@AsadQaiserPTI) September 8, 2018


Ismail also made the announcement on the micro-blogging site.


I would like to donate my 1 year salary as Governor Sindh to the Diamer-Bhasha Dam. Pakistan zindabad

— Imran Ismail (@ImranIsmailPTI) September 9, 2018


Shedding light on water shortages, Suri stressed on the construction of dams

Chief Justice Nisar kick-started the initiative by donating Rs1 million for the two dams and urged all institutions and individuals to play their due role for the construction of the dams in the country.

The country's Supreme Court had directed authorities to immediately start construction of the two dams and appealed to the people, including overseas Pakistanis, to make a contribution for executing the projects.

Couple of days back, Prime Minister Imran Khan also appealed to the countrymen, especially overseas Pakistanis, to generously contribute for building new dams.

In a brief pre-recorded address to the nation, Prime Minister Imran described the ongoing water crisis as the biggest challenge confronting the country. He warned that if new water reservoirs were not built within seven years, the country would be facing a drought-like situation.
COMMENTS
Comments are moderated and generally will be posted if they are on-topic and not abusive.
For more information, please see our Comments FAQ