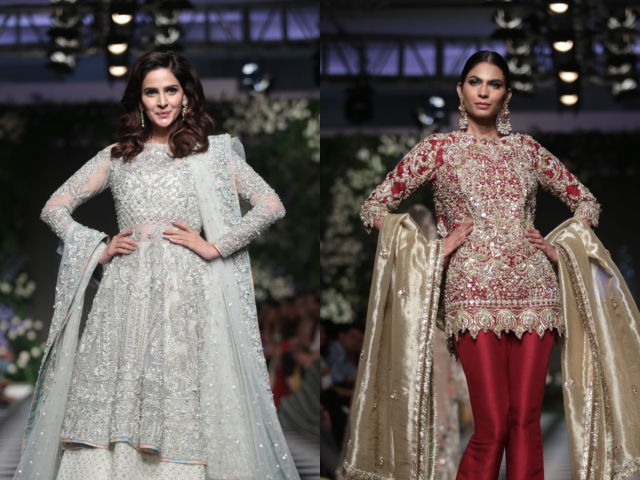 ---
LAHORE: Fashion fever is back again. And, this time around, it's back with a bang. As PFDC Paris L'Oreal Bridal Week (PLBW) kicked off with established and up-and-coming designers, Lahore played host to the glamorous evening once again.

From Ali Xeeshan bringing a myriad of colours to the ramp to Rema Shehrbano making their fashion week debut, designers carried forward the legacy of bridal wear, incorporating traditional and modern silhouettes. Here's what we took home from the opening day of the three-day extravaganza.

Designer: Nomi Ansari

Collection: 'Maya'




His collection drew inspiration from the splendour of the subcontinent's opulent palaces and comprised sophisticated, handcrafted ensembles that exuded old world charm and contemporary sensibilities. Popularly known as the undisputed 'Master of Colour' in the fashion industry, we were surprised to see lack of vibrant colours in his line. Instead, the designer played it safe with earthy tones. And, as expected there was a lot of floral screen printing in his offerings –  but, hasn't Nomi been there, done that a gazillion times now?  The offerings looked timeless on the ramp but there were no interesting or new silhouettes.

But, what made some of the pieces stand out from afar were the multi-coloured shimmery net dupattas and heavily embellished lenghas. Teefa in Trouble star Maya Ali was the design house's showstopper, sporting a bright sea green lengha featuring floral applique and a sheer net choli with statement sleeves.

Designer: Hussain Rehar

Collection: Rgyaal-Mo   




Rehar presented an out-of-the-box idea for his bridal week debut. With a reverie as his concept, he showcased the idea of two tribes coming together to create a tribal fantasy. Floor-length ensembles dominated the collection, alongside mirror and pita work on unconventional floral pieces. In a first, a designer did away with fancy shoes on the runway and we saw models walk barefoot in dramatically short hemlines.

While the styling deserves appreciation, the colours were a little too dark comprising different shades of red such as garnet, oxblood and maroons. And, some creations were definitely not tailored with the festive season in mind.

Designer: Rema Shehrbano
Collection: Sophia





The designer duo definitely left a mark on the audiences with their debut fashion show. As expected, the line was a visual treat entailing the label's signature understated and elegant touch. Sculptural pieces, playful ruffles, dynamic colours and flirty details led the pack. Comprising traditional techniques such as gota work, mukesh, zardozi and tilla, the outfits were stitched in hues of gold. What we liked about it was the fact that the collection was extremely wearable – embroidered trousers, velvet shirts and heavily adorned dupattas.

Mehreen Syed turned necks as the showstopper, stealing the show in a floor-sweeping, ivory coloured outfit. And oh, how gracefully did she carry that baby bump!

Designer: Saira Shakira

Collection: Fairuza




Saira Shakira returned this season with a glitzy throwback to Persia in the 1920s. Focusing on elaborate embroideries, lavishly sequined motifs and 3D embellishments, the designers showcased a classic yet edgy collection. The variations in trousers were interesting to see on the ramp but not everyone can carry them.

'Fairuza' was based on a flamboyant colour palette, from nudes to red and everything in between. Long slit shirts and short sleeveless jackets paired with lenghas proved to be the highlight of the show. Saba Qamar hit all the right notes in a white heavily embellished outfit, perfect for a modern-day bride.

Designer: Ali Xeeshan

Collection: Ijaazat




The grand finale of day one saw Ali Xeeshan showcase a one-of-a-kind bridal show. The designer brought a valid concern to the fore: How we are so engrossed in social media that we forget to enjoy our 'Big Day' to the fullest. Each piece held its own with hues of red playing a huge role in Xeeshan's collection. We spotted a lot of multi-coloured beadwork on contrasting fabrics.

His menswear line comprised classic tailoring and styling techniques. The monochrome tapered sherwani, jodhpuri jackets and waistcoats were crafted to perfection, for occasion and festive wear.

Have something to add to the story? Share in the comments below.