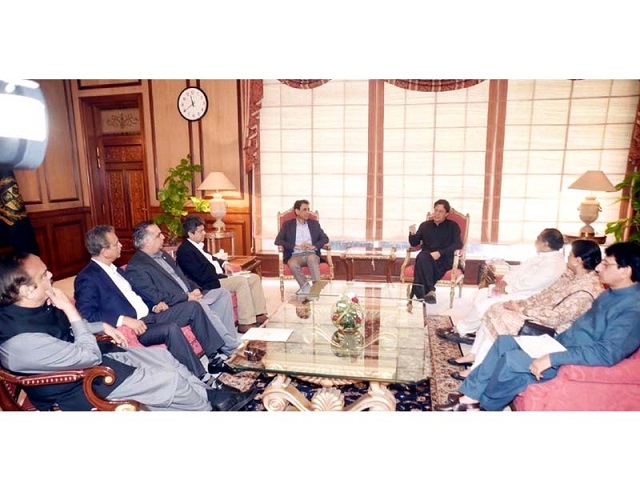 ---
ISLAMABAD: Prime Minister Imran Khan assured Muttahida Qaumi Movement-Pakistan (MQM-P) on Friday that the federal government would soon announce the formation of a task force for implementing the proposed Karachi Transformation Plan.

He was talking with members of an MQM-P delegation, led by federal minister for Information Technology and Telecommunication Khalid Maqbool Siddiqui who called on the prime minister.

Other members of the MQM-P team included Law Minsiter Dr Farogh Naseem, Aminul Haq, Kanwar Naveed, Nasreen Jalil and Mayor Karachi Wasim Akhtar.

The taskforce will be jointly headed by the Governor Sindh and Mayor Karachi.

Possible alliance between MQM-P, PTI on the cards

The federal cabinet is expected to approve the appointment of members of the task force in its next meeting.

The task force will develop a draft plan in consultation with all stakeholders and the federal government has already promised adequate funding for the proposed plan.

A direct financial package for Sindh's urban centers with a special emphasis on water is part of the nine-point Memorandum of Understanding (MoU) signed by the PTI with MQM-P before entering into a formal alliance at the Centre.

"The Prime Minister has assured that the federal government will extend all possible cooperation for resolving problems faced by the people of Karachi and Hyderabad," said a statement issued by the PM's Office after the meeting.

During their meeting with the PM, the MQM-P team highlighted various problems needing urgent attention, especially the absence of mass transit system, solid waste management and other civil facilities.

Both sides also discussed the prevailing political situation with specific reference to the upcoming presidential election.

MQM-P lends support to PTI in forming federal govt

Before this meeting, Governor Sindh Imran Ismail also held a one-on-one meeting with the Prime Minister.

On this occasion, the PM expressed the resolve to extend full cooperation for further improving the law and order situation in Karachi.

Expressing concern over the fact that some areas of Karachi lacked basic amenities, the prime minister said that he realised the problems faced by the people of Karachi.

Later, the PM assured the governor that the PTI government was committed to cooperate for resolving these problems.
COMMENTS
Comments are moderated and generally will be posted if they are on-topic and not abusive.
For more information, please see our Comments FAQ