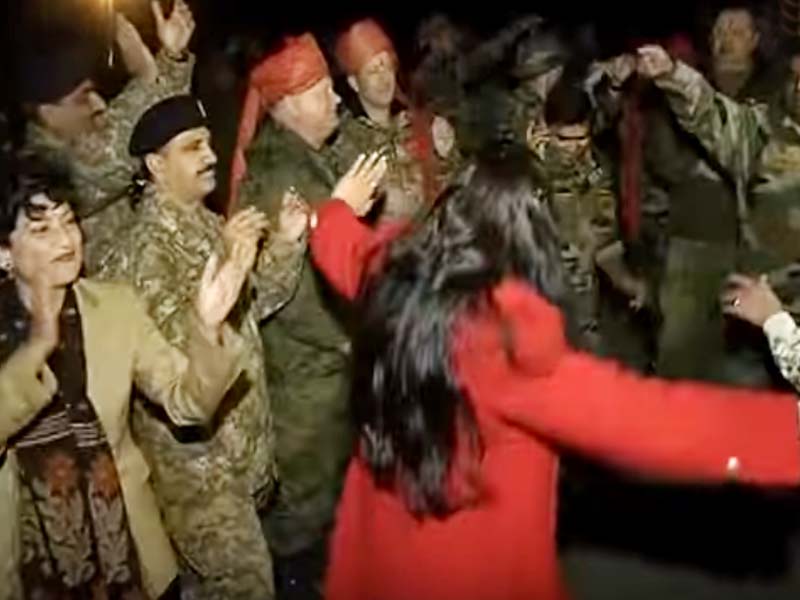 ---
The history of nuclear-armed rivals Pakistan and India has been marred by bloody wars, deadly border skirmishes, festering disputes, and mutual recrimination.

With this chequered history in mind, a viral internet video showing Pakistani and Indian soldiers dancing together to popular Bollywood songs has come as a pleasant surprise to many in the two countries.

The video has been shown by several Pakistani and Indian news channels after it went viral on social media platforms.

Eidul Azha: Pakistani, Indian forces exchange sweets at Wagah border


Indian & #Pakistani soldiers dancing together #SCO2018 exercise #Russia pic.twitter.com/690gAGsgSl

— Neeraj Rajput (@neeraj_rajput) August 28, 2018


Contingents of Pakistani and Indian armies were participating in joint multinational exercise organised under the umbrella of The Shanghai Cooperation Organisation (SCO), or Shanghai Pact, in Russia.

The SCO consists of India, China, Russia, Pakistan, Kazakhstan, Kyrgystan, Tajikistan and Uzbekistan as its regular members.

The joint exercise, which began on August 24, concluded on August 30 with multinational forces exhibiting their combat power and dominance over the extremist groups in a simulated realistic situation.

The closing ceremony was conducted at the drill ground of 255th Inter-Services Firing Ranges, Chebarkul, Russia.

According to the Indian media, the participating troops attended a function arranged by the Indian army on the second last day of the exercises, where they celebrated by dancing together.

In the video, soldiers of both the armies could be seen dancing together to popular Bollywood songs before hugging each other.


COMMENTS (8)
Comments are moderated and generally will be posted if they are on-topic and not abusive.
For more information, please see our Comments FAQ