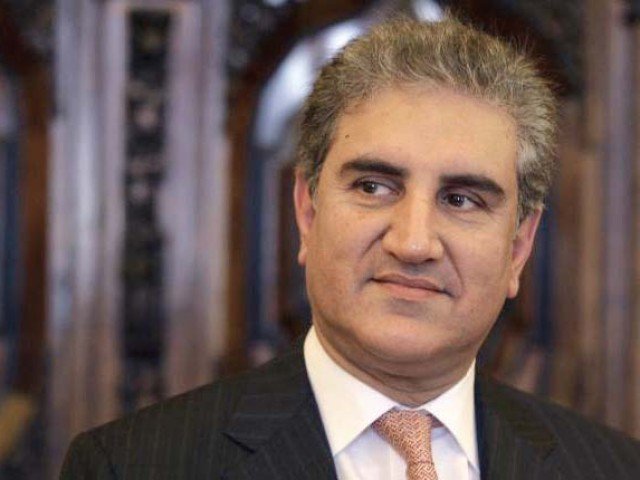 ---
ISLAMABAD: Pakistan has written a letter to Organisation of Islamic Cooperation (OIC) to convene an emergency session against blasphemous cartoons contest in the Netherlands.

"I have also spoken to Turkish foreign minister on moving OIC against the blasphemous cartoons competition and he has assured me of Turkey's full support," Foreign Minister Shah Mehmood Qureshi told reporters.

The foreign minister said the Dutch foreign minister spoke to him on the issue. "The Dutch foreign minister called me. He said the blasphemous cartoons contest is an act of individual and the Dutch government has nothing to do with it — and that if any party feels aggrieved or hurt, there are legal remedies available.

FM Qureshi reiterates Pakistan's desire for better relations with US

Meanwhile, ahead of an upcoming visit of a top US official, Foreign Minister Shah Mehmood Qureshi has once again contradicted the stance of the State Department regarding a recent conversation between the US dignitary and Prime Minister Imran Khan.

"There was no discussion whatsoever on the reference made in the State Department's press release (regarding terrorists operating from Pakistan)," the foreign minister said while speaking in the Senate on Tuesday.

"Pakistan takes exception to the factually incorrect statement issued by US State Department on today's phone call between PM Khan and Secretary Pompeo. "There was no mention at all in the conversation about terrorists operating in Pakistan. This should be immediately corrected," FO Spokesperson Dr Faisal tweeted on August 23.

On Tuesday, Foreign Minister Qureshi once again rejected the US stance. "I know the State Department's spokesperson said 'We stand by our readout', but with all due respect let me say that this (readout) is not true and is in complete contradiction with facts."

In the same vein, he continued, "Mistakes do happen, might have happened (from them). What we have reported is true." "Much to the surprise of many, the exchange of views during the conversation was very cordial, very engaging and very constructive in nature.

I think we have to move on. If US state secretary is coming on September 5, we will try that a new page in Pak-US bilateral relations be turned to a positive trajectory and the aspirations of people of Pakistan and their elected representatives be reflected in it."

Qureshi condoles US Senator John McCain's death

Blasphemous contest On the issue of blasphemous cartoons contest in the Netherlands, Qureshi said he would take up the issue with Dutch foreign minister.

The matter will also be taken up with European Union and human rights bodies. The minister said he would highlight the issue of blasphemy during the meeting of Council of Foreign Ministers at UNGA next month. Blockade of sites by PTA Qureshi cited the figures from the Pakistan Telecommunication Authority (PTA), suggesting 32,895 sites promoting blasphemy have
been blocked.

HR violations The foreign minister supported the viewpoint of Senator Sherry Rehman and slammed human rights violations in Myanmar and IHK. "The champions of human rights are silent on these violations." He said calls from within India demanding to revisit 'atrocious' Kashmir policy are growing. Pakistan expects the United Nations to take 'very seriously,' the plight of Myanmar Muslims, Qureshi said.

Water scarcity The minister blamed 'the negligence of former governments' contributing to the problem of water scarcity in Pakistan, saying India's hostile attitude added to Pakistan's plight. He welcomed talks between Indus water commissioners.

FATF Qureshi also held the previous elected government responsible for Pakistan's placement in Financial Action Task Force grey list. But he lauded the efforts of caretaker Finance Minister Shamshad Akhtar, who, he said, actively pleaded Pakistan's case in FATF.

Published in The Express Tribune, August 29th, 2018.