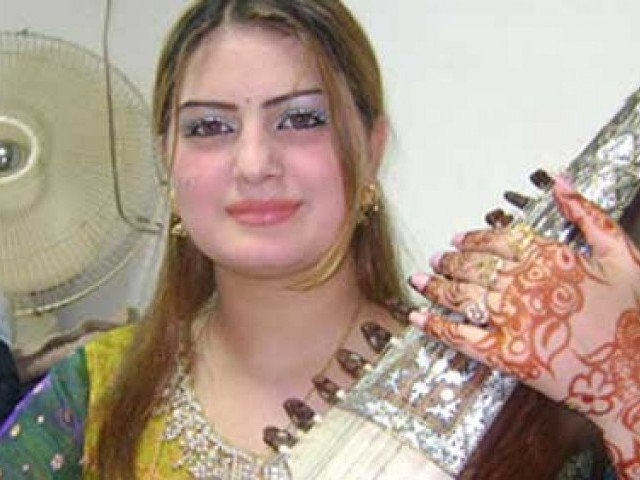 ---
PESHAWAR: Fans were accustomed to seeing stage artist and dancer Neelam Gul wearing heavy makeup, colourful costumes and dancing to traditional Pashto tunes under the spotlight for the entertainment of packed halls of Peshawar. Each video of her performance on social media had thousands of views.

But earlier this month, they saw Gul as they had never seen before.

Shorn of any makeup, with bloodied scars on cheeks and bruises all over her face, they heard Gul speak — between sobs — of how her husband had subjected her to abuse, divorced her and then forced her out of her Mardan home, which she claimed to have bought from the money she made from dancing.

Women in Chakwal make history

"He threatened me and said that I have no one who can provide me with protection," said Gul seen crying  in the cellphone video — unlike the better-produced videos that her followers are used to.

"I have made millions and did whatever he [her husband] wanted, but now he has turned against me," Gul said, adding that she had no one to turn to.

Posted on her Facebook page, the video soon went viral.

The response to her request for protection from her husband, Murad Ali, was quick and some helped her move to a women's shelter in Peshawar.

Gul is now recovering and working on getting her property, she is one of the lucky few who have survived to tell the tale of domestic violence against female artistes in the province.

A day before Gul posted her video, reports came that Pashto singer Risham Khan had been brutally murdered by her husband.

In recent years, Pashto music lost famous singer Ghazala Javed at the hands of her husband, who has since been freed by the court.

Ayman Udas, another artiste, was allegedly killed by her brothers over claims of dishonouring the family. Singer Rabia Tabasum was poisoned. The 18-year-old Pashto singer Karishma Shahzadi was allegedly killed after being injected with a spurious injection. Another 18-year-old actor Bushra suffered burns on her face when acid was flung on her in Nowshera.

In February this year, stage actor Sumbal had been shot in the Shaikh Maltoon area of Mardan — the same locality where Gul's house is located. In June, Pashto artiste Gulnaz, alias Muskan, was shot in Peshawar.

Nazia Iqbal, a senior singer, appeared in a video online earlier this year asking her fans to help protect her daughter against harassment at the hands of her relatives.

Musicians and singers (both men and women) are a part of our culture, explained Taimur Kamal of the Pakhtunkhwa Civil Society Network.

"They [artists] have been with us. They have entertained us and were much respected in the past but now the society as a whole abhors them," Kamal told The Express Tribune.

He revealed that since artistes were forced from their traditional home in Swat owing to the militancy there, they have struggled to find a secure place for themselves in other parts of the country.

The Wali of Swat had converted Buner in Swat as a haven for musicians and artistes. Here, musicians were offered training while anyone who wished to listen to the music of artisans, they could simply travel to the valley to be entertained.

Activist Kamal believes that this tradition has now changed. To make matters worse, he was of the view that the absence of a provincial cultural policy which protects culture and its practitioners has further endangered artistes.

"The Khyber-Pakhtunkhwa Commission on the Status of Women (K-PCSW) over the past five years has not provided relief to even a single victim, forget about the formation of policies and legislation," Kamal said while referring to the attacks on women artistes in the province.

To make matters worse, there is no dedicated database on attacks on artists — whether men or women. However, Kamal's Pakhtunkhwa Civil Society Network has recorded the murder of at least 170 women across the province over the past seven months due to domestic violence and honour killing.

Women turnout at two NA constituencies less than 10%

Shaheen Qureshi, the district chairperson of the K-PCSW told The Express Tribune that violence is rampant in our society and women and children are among its first victims.

She added that the attacks and torture of women singers are a part of that violence.

Asked for a solution, she said that it was imperative that all institutions work together to protect the victims of domestic violence, irrespective of the relations of the victim and the offender.

"We have laws in our country, but there is no implementation," lamented Qureshi.

"Even if a female victim registers a first information report (FIR), they usually force her to strike a compromise and no action is taken against the culprit," she added.

Published in The Express Tribune, August 27th, 2018.