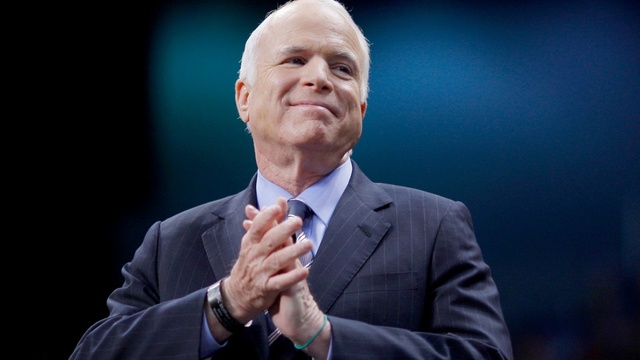 ---
Foreign Minister Shah Mehmood Qureshi condoled the passing away of United States' Senator John McCain on Sunday.

McCain, a US senator from Arizona for over three decades, had been battling glioblastoma, an aggressive brain cancer, discovered by his doctors back in July last year, and had not been at the US Capitol in 2018. He also had surgery for an intestinal infection in April of this year.

"Thoughts and prayers of the people of Pakistan are with the family and friends of Senator McCain," said a statement issued by the Foreign Office (FO). "Senator John McCain had an illustrious military and public service career and was admired across the spectrum of US politics as a man of integrity and a champion of civility".

US Senator John McCain, ex-POW and political maverick, dead at 81

"As chairman of the armed services committee, senator McCain always stood for strong Pakistan-US relations and a cooperative approach for promoting peace and building stability in the region. He will be greatly missed in Pakistan," he said.

The 81-year-old had been in the public eye since the 1960s, when as a naval aviator he was shot down during the Vietnam War and tortured by his North Vietnamese communist captors during 5 and a half years as a prisoner.

He was edged out by George W Bush for the Republican presidential nomination in 2000, but became his party's White House candidate eight years later. After gambling on political neophyte Sarah Palin as his vice presidential running mate, McCain lost in 2008 to Democrat Barack Obama, who became the first black US president.
COMMENTS
Comments are moderated and generally will be posted if they are on-topic and not abusive.
For more information, please see our Comments FAQ