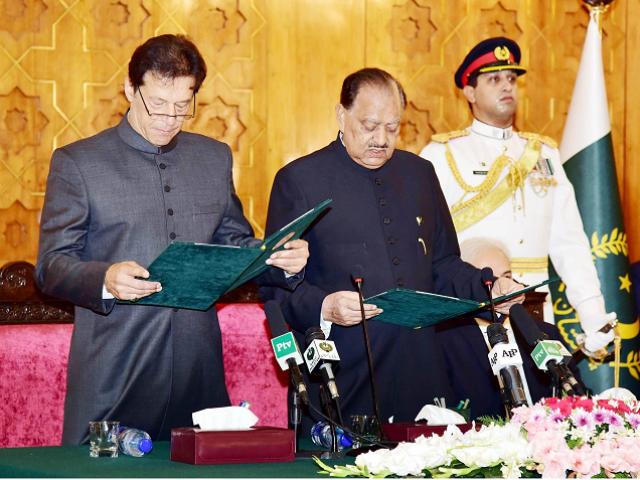 ---
All eyes were set on the country's newly sworn in premier, Imran Khan during his oath-taking ceremony, however, his fumbling while being sworn in has been put under the media spotlight.

Imran was administered the oath by President Mamnoon Hussain during a ceremony at the Aiwan-e-Sadar in Islamabad.

While reading out certain parts of the oath, the Pakistan Tehreek-e-Insaf (PTI) supremo can be seen misreading Urdu words.

President Mamnoon Hussain then corrects the former cricketer to which Imran can be seen smirking.


#WATCH Islamabad: Imran Khan fumbles during his oath taking speech pic.twitter.com/cPsgsjwgnD

— ANI (@ANI) August 18, 2018


Mamnoon even corrected PM Imran when he said "roz-e-qiyaadat" (day of leadership) instead of "roz-e-qiyaamat" (Day of Judgement).

Bushra Imran's veil 'unmasks societal biases'

Moreover, there is also a moment in the ceremony when Imran reaches into his kurta to take out his reading glasses leaving the audience wondering what he was about to take out.

https://twitter.com/NavjotSingh_12/status/1030694845696880648

A social media user backed Imran by saying that after over two-decades of struggle to reach this position it would be natural for anyone to fumble when they achieve their life long goal.


its not right to highlight this,imran has struggled for 20 years to reach this position.Anybody would fumble after achieving his dream. #Respect

— hankpanther8296 (@hankpanther8296) August 18, 2018


Another twitter user said that how is it possible for Imran not to have rehearsed it.


Do all people fumble that much during oath taking? I thought he'd have rehearsed this a hundred times in front of mirror during last couple years.

— Anam. (@AnamSid_) August 18, 2018
Even Indian tabloids are reporting about fumble... Hahahaha kamaal hai... So much for a fluent & smooth oath ceremony https://t.co/WNnxw8jKLc

— atrangi (@ek_bun_maska) August 18, 2018