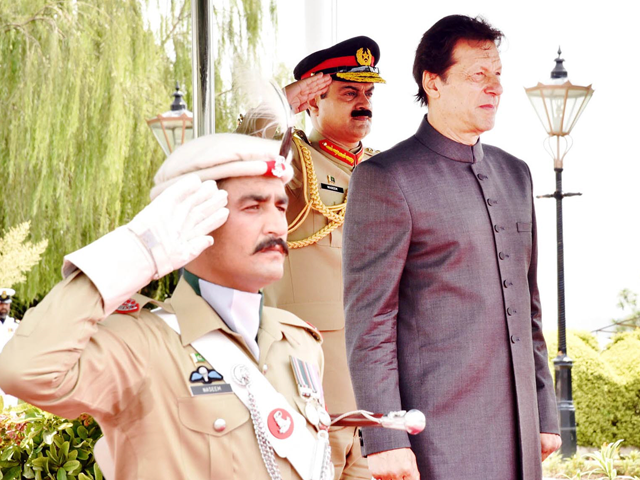 ---
ISLAMABAD: Getting down to business, Imran Khan announced on Saturday a relatively small 21-member federal cabinet, comprising 16 ministers and five advisors.

Almost one-third of the nominated cabinet members previously served in various ministerial positions during the Musharraf regime between 1999 and 2008.

Cabinet members will take oath of their respective offices on Monday (tomorrow).

PTI allies were handed over six of 16 ministries: Muttahida Qaumi Movement-Pakistan (MQM-P) was given two ministries and one each to Pakistan Muslim League-Quaid (PML-Q), Awami Muslim League (AML), Grand Democratic Alliance (GDA) and Balochistan Awami Party (BAP).




Two other allies – Akhtar Mengal's Balochistan National Party (BNP) and Jamhoori Watan Party (JWP) – did not get any share in the cabinet.

Seven of the nominated ministers and advisors had previously served on key posts during the Musharraf's era. Two others served as cabinet members during the previous PPP government (2008-2013).

Asad Umar, Dr Shireen Mazari, Ghulam Sarwar Khan, Fawad Chaudhry, Aamir Mehmood Kiyani, Shah Mehmood Qureshi, Pervez Khattak, Shafqat Mehmood, Khusro Bakhtiar were among the new cabinet members.

Khalid Maqbool Siddiqui, Farogh Naseem, Tariq Bashir Cheema, Zubaida Jalal and Sheikh Rasheed Ahmed also made it to the next federal cabinet.



Asad Umar was assigned the portfolio of finance, revenue, and economic affairs.

PTI's Vice-Chairman Shah Mehmood Qureshi, who served as foreign minister during the previous PPP government, was again assigned to handle foreign affairs.

Former CM Khyber Pakhtunkhwa Pervez Khattak will look after the defense ministry, Dr Shirin Mazari will serve as the minister for human rights, Fawad Chaudhry will be the minister for information and broadcasting, Shafqat Mehmood will look after the ministry of education and professional training.

Imran sworn in as 22nd prime minister

Meanwhile, Noorul Haq Qadri was given the portfolio of religious affairs.


Farogh Nasim and Khalid Maqbool Siddiqui, both of the MQM-P, have been given the ministries of law, justice and information technology and telecommunication, respectively.




PHOTO: EXPRESS

Grand Democratic Alliance's Dr Fehmida Mirza, who previously served as the Speaker of the National Assembly, will be the new minister for Inter-Provincial Coordination.




PHOTO: EXPRESS

PML-Q's Chaudhry Tariq Bashir Cheema will serve as the minister for states and frontier regions (SAFRON). Aamir Mehmood Kiyani was assigned the portfolio of ministry of national health services, while Zubaida Jalal will look after ministry of defence production.




The ministry of water resources will be looked after by Makhdoom Khusro Bakhtiar.

Ghulam Sarwar Khan has been assigned Petroleum Division, while Sheikh Rashid Ahmad will look after the Railways ministry.

The five advisors to the Prime Minister are: Mohammad Shehzad Arbab (Establishment), Abdul Razak Dawood (Commerce,/textile industry and investment), Dr Ishrat Hussain (Industrial Reforms and Austerity), Amin Aslam (Climate Change) and Zaheeruddin Babar Awan (Parliamentary Affairs).

Who served Musharraf

Khusro Bakhtiar was the minister for foreign affairs between 2004 and 2006, Zubaida Jalal served as the minister of education (2002-07), Sheikh Rashid served as the minister for information and then railways minister during the Musharraf's regime.

Ghulam Sarwar Khan was inducted into then prime minister Shaukat Aziz's cabinet as minister for labour and manpower. Fawad Chaudhry previously served as spokesperson to Pervez Musharraf. He also remained Musharraf's media coordinator in the All Pakistan Muslim League (APML). Farogh Naseem recently defended Musharraf in the special court in the high treason case.

Advisor on Commerce Razak Dawood served in Musharraf's cabinet between 1999 and 2002 as the commerce minister, while Amin Aslam was the state minister for environment between the 2002-2007 period.

Dr Ishrat Hussain was appointed as the Governor of the State Bank of Pakistan (SBP) during Musharraf regime.

Shah Mehmood Qureshi and Babar Awan served as foreign and law ministers, respectively during the previous PPP government at the Centre.

According to the Constitution, the federal cabinet's size should not exceed 11 per cent of the total strength of the National Assembly and Senate.

Keeping in line with this formula, Khan can keep a cabinet of 49 ministers and advisors.

A senior party leader said that the cabinet could expand in accordance with the government's needs.


Prime Minister Imran Khan has approved twenty member cabinet, the cabinet comprises on fifteen federal ministers and five advisers, The ministers shall take oath on Monday morning at President's House

— Ch Fawad Hussain (@fawadchaudhry) August 18, 2018


Following is the complete list:


COMMENTS (12)
Comments are moderated and generally will be posted if they are on-topic and not abusive.
For more information, please see our Comments FAQ