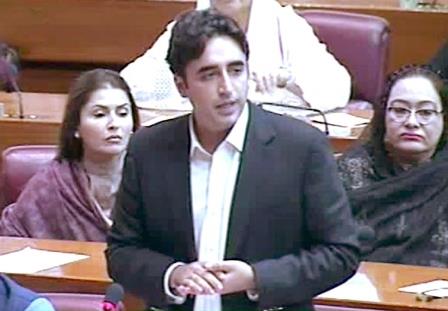 ---
Bilawal Bhutto referred to Imran Khan as "prime minister-select," undermining the legitimacy of Khan's premiership, during his speech in the National Assembly on Friday.

"I'd like to thank and congratulate the prime minister-select and wish him good luck," said the PPP chairman as he concluded his maiden NA speech. Imran Khan and Shah Mehmood Qureshi were seen applauding in response, the comment sailing smoothly over their heads.



People shared their reactions to the gaffe on Twitter.


Bilawal ended his speech by calling IK PM select, IK whispered thanks and applauded lol
He's too old to get the jokes of young @BBhuttoZardari 😂🙈

— Kaafir (@Bhuttoist_PPP) August 17, 2018
Bilawal Bhutto showing men twice his age how it's done! Excellent Maiden Speech!

— Maria Memon (@Maria_Memon) August 17, 2018
Bilawal said "I would like to congratulate the PM-select" and Imran Khan starts banging the table 😂 Completely missed the "select" jibe.

— Haider Abbasi (@HaiderKAbbasi) August 17, 2018
'PM select' tells the entire electoral process story in just two words!

— Muhammad Ziauddin (@MuhammadZiauddi) August 17, 2018
Congrats PM "select" - Bilawal
Imran claps desk in return

LOL

— Shahbaz Zahid (@shahbazzahid) August 17, 2018
Anyone catch @BBhuttoZardari's "PM Select" bit while addressing Imran Khan in his Maiden Speech today? 🤣 #micdrop

— Marium Soomro (@Marium_Soomro) August 18, 2018
COMMENTS (5)
Comments are moderated and generally will be posted if they are on-topic and not abusive.
For more information, please see our Comments FAQ