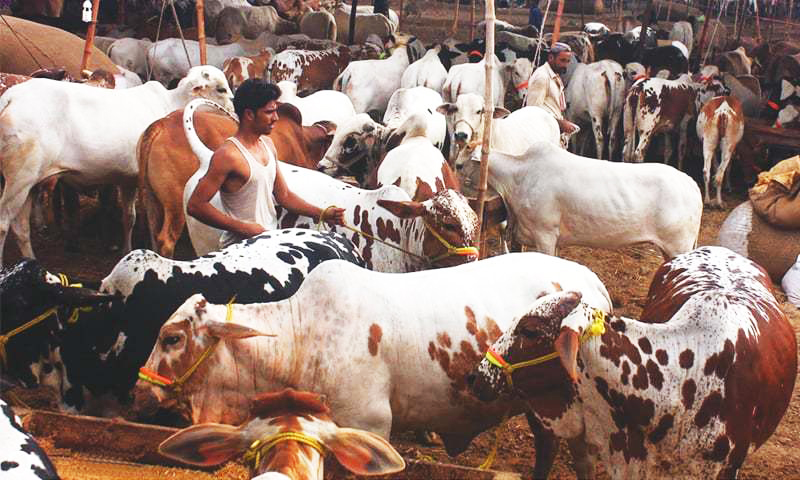 ---
ISLAMABAD: With Eidul Azha only four days away, local vendors in the federal capital on Friday demanded  that more sacrificial cattle markets be set up in  the city and expressed their concern over the financial losses incurred by them due to imposition of section 144 in Islamabad against the sale and purchase of sacrificial animals other than in designated places.

Over 40 per cent of the local traders from rural areas of Islamabad, constituting up to 50.57 per cent of the capital's total population of around two million,  associated with the cattle farming business regretted the prevailing situation and urged the authorities concerned to lift section 144, which was impeding them from making a windfall profit for the entire year.

For this annual tradition, the Islamabad Capital Territory administration had designated a specific place in I-12 sector to accommodate the influx of over 100,000 animals keeping in view, the public's convenience.

However, the market took some time in becoming operational because of some administrative issues relating to four other markets in areas of Rawat, Bhara Kahu, Tramrri and Sarai Kharbooza  that could not see light of the day.

The circular issued by the District Magistrate Islamabad on August 03 stated  that the section 144 is being imposed in the federal capital with regard to the expected mass influx of sacrificial animals ahead of Eidul Azha. It was directed to the departments concerned  to take strict action against the sellers who violates the law by moving their sacrificial animals in bulk within the sectoral areas of ICT with the objective of higher profits. This influx of sacrificial animals on roads, greenbelts, and empty plots in various sectors of ICT pose not only a health hazard but they also endanger human lives by creating traffic congestion, it added. It was also mentioned in the circular that the order was being conveyed to every department concerned and circulated through electronic and print media.

A vendor form Shehzad town Raja Liaquat said that he had been engaged in cattle farming for the last 10 years and earned a great profit on Eidul-Adha but regretted that the situation had been changed for the last couple of years.He was not allowed to do business on his own farm house as last night a police official warned him for this practice, he complained.Liaquat said, "it is difficult to earn profit by selling an animal in the market as the transportation of the animals to the market costs around Rs 10,000 and a single goat eats fodder of Rs 5,000 per month."

The management of the market levied a tax of Rs 2,650 for big and Rs 1,250 for small animals, he added."How can someone expect to earn profit after such huge expenditures", he questioned.

Meanwhile, the public has its own reason to be concerned against the ban. Shadab Haider a buyer , came from Rawat, at I-12 market and told the media that he had to come from 29 km s  away to buy a sheep which he managed to get at for in Rs 30,000 after a marathon bargaining. "Now I have to shift it to my home for which transporters are demanding more than Rs 15,000," he added.

Published in The Express Tribune, August 18th, 2018.
COMMENTS
Comments are moderated and generally will be posted if they are on-topic and not abusive.
For more information, please see our Comments FAQ