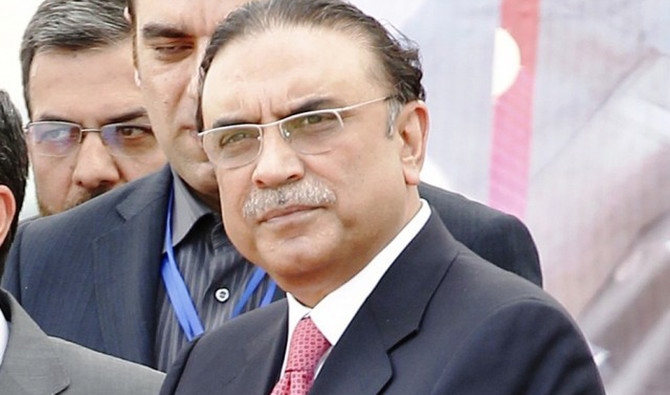 ---
KARACHI: A banking court issued non-bailable arrest warrants for Pakistan Peoples Party co-chairman Asif Ali Zardari and 15 other accused in the fake bank accounts case.

During the hearing of Rs35 billion money laundering case, the prosecution stated that arrest warrants were issued in an earlier hearing for the accused who were declared absconders in the charge sheet submitted by the investigative agency in July. Former PSX chairman Hussain Lawai is among the accused.

However, a statement issued by the PPP said Zardari's counsel Farooq H Naek denied that the court had issued arrest warrants for Zardari.

SC lets Zardari, Faryal off the hook

Those who were declared absconders include the former president, his sister and MPA Faryal Talpur, chairman of a private bank, Anwar Majeed, Abdul Ghani Majeed, Aslam Masood, Mohammad Arif Khan, Adeel Shah Rashidi, Nasser Abdullah Hussain, Mohammad Ashraf, Adnan Jawed, Mohammad Umair, Iqbal Arain, Qasim Ali, Shahzad Ali, Azam Wazir Khan, Sher Mohammad Mugheri, Zain Malik, Mohammad Iqbal Khan Noori, Nimr Majid and Mustafa Zulqarnain.

The authorities have been instructed to present the accused before the court on September 4.

It is pertinent to note that Talpur had been granted bail on July 23 by a lower court against a surety bond of Rs2 million and submission of her passport.

Zardari to appear before Supreme Court today

The FIA also requested the banking court for a 14-day remand of Anwar Majeed. The accused's counsel, Naek, opposed the appeal.

After hearing arguments from both sides, the court granted physical remand of Omni group's chairman and his son Abdul Ghani Majeed until August 24.

Speaking to the media, an FIA representative said the remand was to further probe and obtain documents from the accused in the money laundering case.

The hearing has been adjourned till August 25.