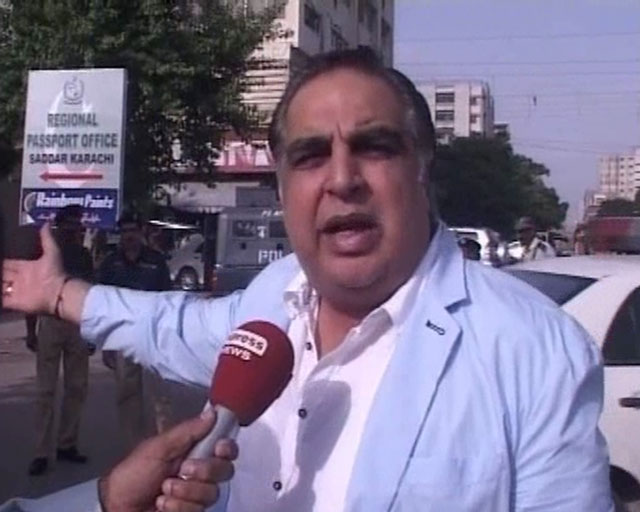 ---
KARACHI: The Pakistan Tehreek-e-Insaf's (PTI) governor-designate for Sindh, Imran Ismail, formally invited on Monday the Muttahida Qaumi Movement-Pakistan (MQM-P) to join the federal government.

While talking to media personnel after meeting MQM-P leaders at their temporary office in Bahadurabad, Ismail claimed that the PTI was not forging any alliance with the Pakistan Peoples Party (PPP).

According to the governor-designate, the PTI could sit with the PPP at the negotiating table to introduce police reforms and resolve issues being faced by people of Sindh. Ismail also denied Imran Khan talking of bulldozing Governor House.

Ismail claimed that he had no ambition to be the governor. Stating that walls erected outside Bilawal House were causing trouble to public, the governor-designate said he would talk to PPP Chairperson Bilawal Bhutto Zardari to remove the walls.

"If Bilawal does not agree, a legal approach will be adopted," Ismail asserted.

PTI nominates Ismail as Sindh governor

Regarding the PTI's invitation to the MQM-P for joining the federal government, Ismail said the latter would reply back to the PTI after holding consultations. The coalition of the PTI and MQM-P would help develop Karachi, he remarked, adding that the PTI-led federal government would form a commission to end the quota system in Sindh.

"No reconciliation is taking place with the PPP and PML-N [Pakistan Muslim League-Nawaz]," Ismail said, adding that as a representative of the federation, he would play the role of a bridge between the federal and provincial governments. According to Ismail, the PTI and MQM-P would not allow the PPP to take a free hand in the assembly.

MQM-P Senior Deputy Convener Amir Khan brought the issue of missing persons during the meeting. He said recovery of missing persons was the government's responsibility. Ismail assured him that the federal government would ensure recovery of missing persons.