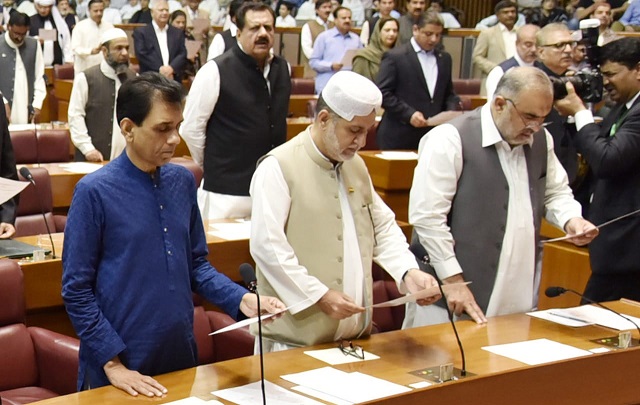 ---


The newly elected members of the national and provincial assemblies took oath on Monday, setting the stage for the country's second democratic transition of power.




Following the oath-taking ceremonies in the National Assembly and provincial assemblies of Khyber Pakhtunkhwa, Balochistan and Sindh, Twitter reacted to Pakistan's continued progress down the path of democracy.


The dream Khan sb saw 22 years ago, is about to become a reality, Alhamdulillah. Countless obstacles came in his way but nothing could deter him from his pursuit for Naya Pakistan. He strongly held onto his faith & finally made the destination. A true inspiration for all of us 😊

— Jahangir Khan Tareen (@JahangirKTareen) August 13, 2018
Congratulations #NationalAssembly #Parliament May democracy prosper in #Pakistan

— Mubashir Zaidi (@Xadeejournalist) August 13, 2018
Best of luck to all the parliamentarians who are in the national assembly. May you fulfill your oaths & help Pakistan be a better place. May you have the sense & the conscience to serve your country above personal agendas, hatred and bigotry. #nationalassembly

— Mahwash Ajaz (@mahwashajaz_) August 13, 2018
Unquestionably, picture of the day. #JamhooriyatKhappay pic.twitter.com/8w5sLGt0GP

— Abid Hussain (@abidhussayn) August 13, 2018
#NayaPakistan #NA view from the gallery pic.twitter.com/hqpzSSJZML

— Asma Shirazi (@asmashirazi) August 13, 2018


Newly elected MNAs take oath in inaugural session of 15th National Assembly

PTI's official Twitter account announced Khan signing the oath in the National Assembly earlier on Monday.


"Ab Qaum aagay barhay, aur taraqqi karein, bhaagay looteray saaray, peechay aagaya kaptaan! Ab sirf Imran Khan".

Imran Khan signs at the oath taking in National Assembly today as the house reverberates with Aye Aye PTI. #PrimeMinisterImranKhan pic.twitter.com/fTRELf9bnd

— PTI (@PTIofficial) August 13, 2018


Tanzeela Qambrani becomes the first woman of African descent to enter Sindh Assembly.


Wow, I love the outfit, the beautiful fusion of Sindhi & African culture! #YouGoGirl pic.twitter.com/zmrK23bvYO

— Maria Memon (@Maria_Memon) August 13, 2018


Bakhtawar Bhutto-Zardari highlighted that former President Asif Ali Zardari was the first to take oath today.


Pres @AAliZardari was the first person to take oath today in #Parliament #CouldntBeMoreProud #JiyeBhutto #AgliBariPirZardari #Pakistan

— Bakhtawar B-Zardari (@BakhtawarBZ) August 13, 2018
Missing our mother Shaheed Benazir Bhutto on this historic day. So much bittersweet joy 2 witness my brother @bbhuttozardari enter Parliament& take his 1st oath & could not be prouder of my father 4 his return 2 Parliament #BhuttoAndZardariTakeOver #JiyeBhutto #AgliBariPirZardari pic.twitter.com/ae84FghxiJ

— Bakhtawar B-Zardari (@BakhtawarBZ) August 13, 2018


However, some twitter followers weren't so kind to the newly elected MNAs and MPAs.

https://twitter.com/Iram_says/status/1028885401564590080

Marvi Sirmed pointed out a 'Freudian slip' by Sheikh Rasheed.


Allah ke ba'ad Pindi waaloN ka mashkoor hooN - Sheikh Rasheed while speaking to media from National Assembly

What a Freudian slip!

— Marvi Sirmed (@marvisirmed) August 13, 2018