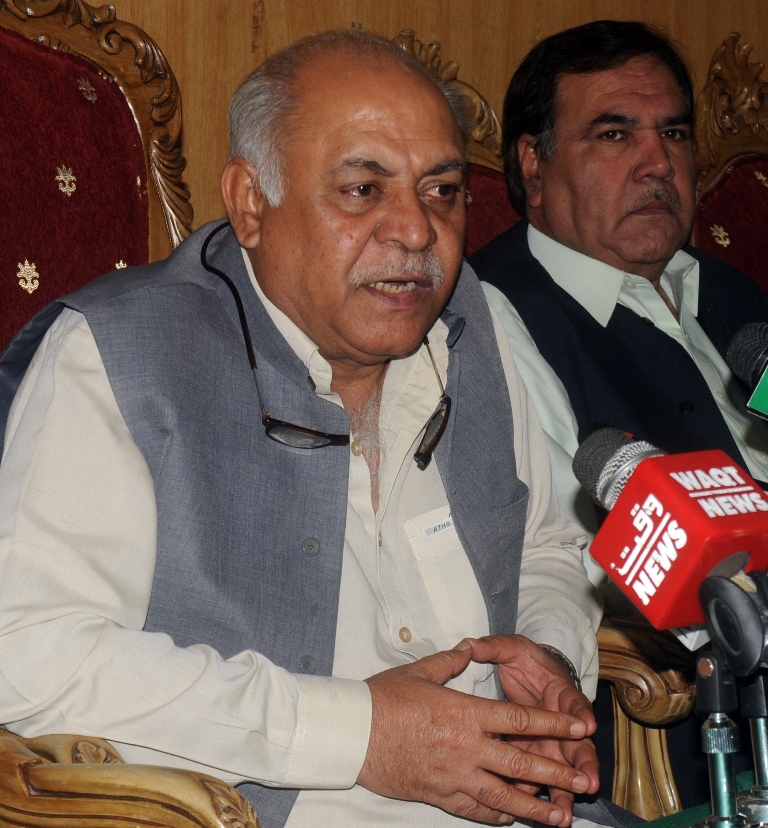 ---
QUETTA: Former federal minister and National Party President Mir Hasil Bizenjo on Thursday said that the security establishment in the country has not mentally accepted the 18th Amendment.

Addressing a news conference at Quetta Press Club, he said, "National Party will oppose all moves of rolling back the 18th amendment in the country." He reiterated that his party will fight off all conspiracies seeking to turn democratic institutions' victory into defeat.

With regards to the general elections, he said that the polls were "engineered" and the establishment has punished "us for supporting democracy and demanding supremacy of parliament, by ambushing on public mandate." He added that the establishment played its role in the polls and elected favourite candidates.

Key national parties insist of massive rigging

He vowed to continue his drive against rigged elections and said that the polls were a useless practice where blatant rigging proved Election Commission of Pakistan's (ECP) negligence. "National Party was deliberately kept aside from National and provincial assembly but our movement against engineered election will continue," he added.

Former Balochistan chief minister Dr Abdul Malik Baloch, Senator Kabir Muhammad Shahi, Tahir Bizenjo, Yasmeen Lehri and senior leadership of NP were present at the news conference.

"The National Party has announced full support for opposition parties protesting against manipulated elections and the next protest against the ECP will be held in Peshawar and the third in Quetta," said Hasil Bizenjo.

The National Party is going to hold its council session in Quetta on August 28, 29 and 30. The Party's central committee has decided to take strict action against party workers and leaders involved in violation of party's constitution.

Earlier, the central committee of National Party on Wednesday ended the basic membership of Khalid Langove who was a former adviser to the Balochistan chief minister on finance.

The decision was taken during a committee meeting, which was presided by Mir Hasil Khan Bizenjo to terminate the basic membership of Mir Khalid Langove and a contractor Zubair Rind over violation of party policies.

No development project left behind, claims Bizenjo

Khalid Langove remained advisor to former Balochistan chief ministers Dr Abdul Malik Baloch and former Balochistan CM Nawab Sanaullah Zehri. Khalid Langove had already announced in the last session of the Balochistan Assembly that he is ending his political career and will not take part in the politics anymore.

He was arrested by the National Accountability Bureau (NAB) in connection with the mega corruption case of the Finance department. The former finance secretary Mushtaq Raisani and some other officials were arrested after recovery of around Rs630 million cash from the residence of Raisani.
COMMENTS
Comments are moderated and generally will be posted if they are on-topic and not abusive.
For more information, please see our Comments FAQ