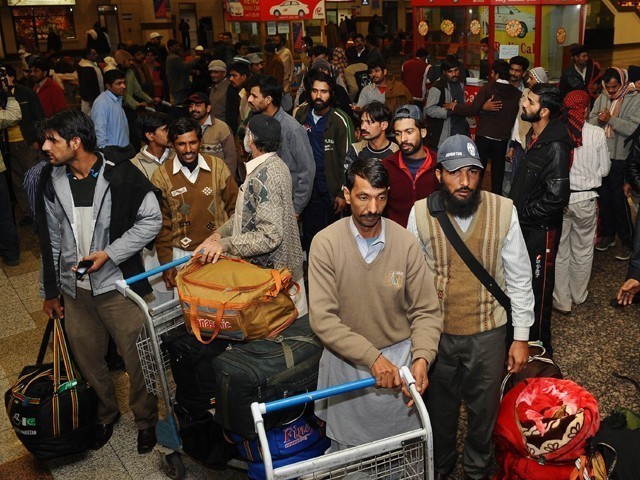 ---
LAHORE: At least 100 Pakistani workers were deported by Saudi authorities on Wednesday after being incarcerated for months, Express News reported.

The deportees arrived in Lahore via Saudi Airlines flight SV-734. Upon arrival, they were questioned and processed by immigration authorities and were later let go. The deportees said that they had pursued employment opportunities abroad for a better future.

39,000 Pakistanis deported from Saudi Arabia in four months

In March, thousands of Pakistanis were imprisoned in Saudi Arabia and dozens were sentenced to death in the kingdom. Sixty-six Pakistanis were beheaded in the country between 2014 and 2017 alone, the report entitled "Caught in a Web" said.

Pakistani migrants are "exceptionally disempowered and marginalised," Saroop Ijaz, an HRW researcher told AFP, adding that the group faces a "premodern discriminatory" criminal justice system in the kingdom.

In February 2017, at least 39,000 Pakistanis were deported from the kingdom within a span of four months, according to a Saudi Gazette report.
COMMENTS
Comments are moderated and generally will be posted if they are on-topic and not abusive.
For more information, please see our Comments FAQ