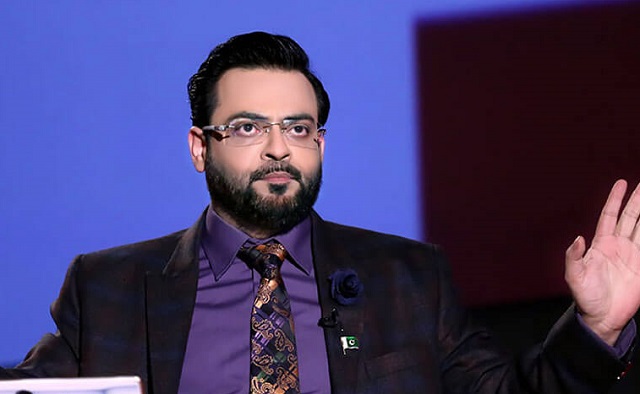 ---
ISLAMABAD: The Supreme Court on Wednesday slapped a Rs20,000  fine on televangelist Aamir Liaquat for failing to appear before court.

Hearing the case, Chief Justice of Pakistan Mian Saqib Nisar asked Liaquat's counsel why an arrest warrant should not be issued for his client for failing to appear before the court.

During the hearing, Faisal Qureshi, lawyer for the petitioners, argued that Liaquat leveled false and baseless allegations on citizens and politicians in his programme on Bol TV.

Aamir Liaquat furious over 'not getting' PTI ticket from Karachi

The chief justice remarked that Liaquat had assured he would not preach any hate speech in his programme and said the court would review transcripts of his programme and decide if he had defied court orders to halt defamatory speech.

The case was adjourned till Friday.

Amir Liaquat was fined Rs20,000 for not appearing before court. The amount is to be deposited for the Diamer Bhasha dam fund.

Independent Media group – the parent company of Jang and Geo groups, Mir Shakilur Rehman, Najam Sethi and Shahzeb Khanzada had filed petitions against Liaquat in May 2017.

PEMRA bans Amir Liaquat for 30 days

Pakistan Electronic Media Regulatory Authority (Pemra) banned Liaquat for preaching hate in January of 2017.

"During several weeks it has been monitored that Amir Liaquat host of the programme Aisay Nahi Chalay Ga, in the episodes broadcast on BOL News from January 2, 2017 to January 24, 2017, has willfully and repeatedly made statements and allegations which tantamount to hate speech, derogatory remarks, incitement to violence against citizens and casting accusation of being anti-state and anti-Islam, on various individuals" read a notice from the regulatory body.


COMMENTS
Comments are moderated and generally will be posted if they are on-topic and not abusive.
For more information, please see our Comments FAQ