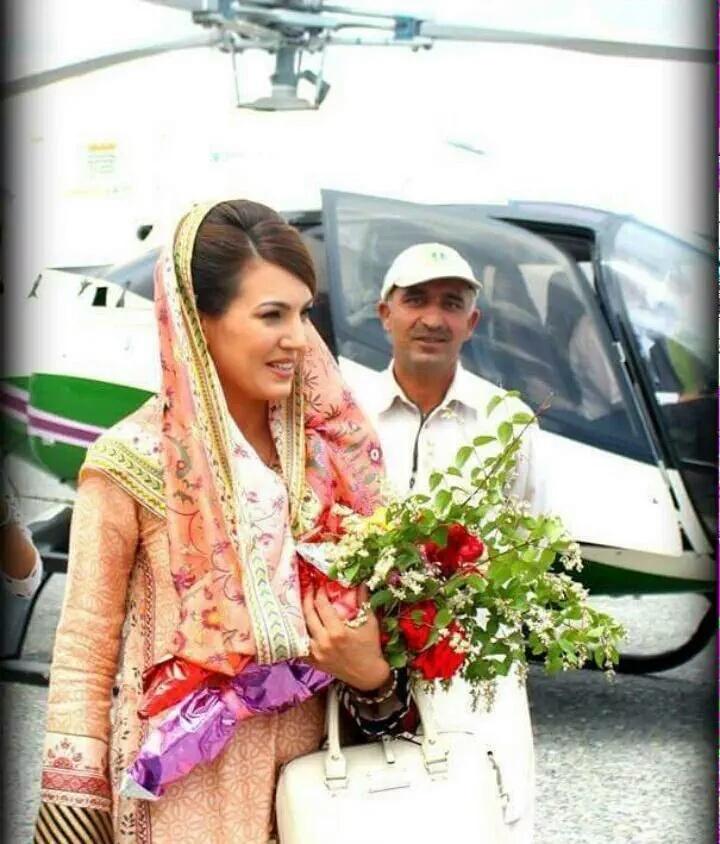 ---
A video featuring Reham Khan being accosted in a UK park has recently made rounds on social media.

The journalist and ex-wife of Pakistan Tehreek-e-Insaf Chairman Imran Khan was seen with her son Sahir Rehman in a park in Kingston, England.

The pair was seemingly in conversation with media personnel before the accosting, as lighting equipment is seen behind the pair. The anonymous woman recording the video approaches them and asks if Reham is to join the party recently launched by Ayesha Gulalai, Pakistan Tehreek-e-Insaf-Gulalai.


2/2 Reham Chhitrolled pic.twitter.com/mSp4JG7Tqs

— Arshad Malik 🇵🇰 (@arshadmmalik) August 6, 2018
Reham part 2 pic.twitter.com/YeAUwAtAkN

— Arshad Malik 🇵🇰 (@arshadmmalik) August 6, 2018


I've made mistakes in life, but marrying Reham has to be the biggest: Imran

In 2017, Ayesha Gulalai had accused male members of PTI, including Imran Khan, of sexual harassment.

After multiple interruptions, Reham implores the anonymous questioner to speak civilly and states that she will not be joining Gulalai's party because she does not "know the lady".

The woman recording the video likens Reham's 'mentality' to Gulalai's.

"No, that's not my mentality. You're a young lady, I hope that you have children, I hope that you're married and what I would advise you is that before u start hating people--"

The recorder cuts her off and insists she is merely "asking questions". The woman then addresses Sahir Rehman, who has hovered in the background. She asks, "Why are you looking at me like that? Like you're going to kill me."

British journalist garners online vitriol over Reham Khan's interview

Reham responds, "Because he's my son and you're being rude to his mother."

The questioner insists that it was not the case and launches into another question, inquiring whether Reham was jealous of Bushra Maneka, the soon-to-be "first lady" of Pakistan.

"Bushra bibi is Imran's wife now and I'm very happy that she is his wife," Reham responds.

Reham is then questioned about her comment on Maneka's hijab before she is allowed to continue.

Reham had tweeted out an image of Maneka's hijab, alleging it was "political hijab" meant to draw in right-wing vote banks.


I have all the respect for women who observe hijab for personal reasons. I object to right wing vote pick up efforts pic.twitter.com/SWt6i7YDaS

— Reham Khan (@RehamKhan1) February 24, 2018


Reham then states: "I'm very happy to not stand with a man that I do not respect, so I don't want to be the first lady. It [being first lady] is not that important, what is most important is that you are answerable only to Allah. Islam says you should be with someone you believe and who you respect."

The woman behind the camera then asks why Reham had not asked for a divorce if she had witnessed the behaviour and incidents she wrote about in her autobiography.

Reham suggests the questioner read her book to know more about her situation and offers a copy. The woman behind the camera states, "Nobody can read this book."

"Jemima spent years with him and she never did this. She knows [him] better than you," she adds referring to Jemima Goldsmith.

Sahir Rehman steps in and walks away with his mother, as the woman calls after them.

As Reham leaves with her son, she is questioned about her silence on alleged Indian-created terrorism in Pakistan. The anonymous woman also attempts to engage with Sahir again but is ignored.

Twitter users have commended the family's composure during the 'interview' and criticised the manner in which it was conducted.


This is shameful! I have my disagreement with @RehamKhan1 but she and her son dont deserve to go through such harassment. Kudos on the composure shown by them. https://t.co/sBJNhsLFAn

— Sabeer Lodhi (@sabeerlodhi) August 6, 2018
Reham Khan is speaking so softly and the other woman's behaviour is impudent and insolent.
If someone doesn't believe her , better to sue her on the contents of the book.
Live and let live .@RehamKhan1

— Dr Farya (@Hestia2007) August 6, 2018
this behaviour is highly deplorable. IK is responsible for this. I suggest people should start doing the same with PTI leaders. Only then they will realize.

— Tariq Alvi ووٹ کو عزت دو۔ (@TariqAlvi18) August 6, 2018
Brother he is my leader and i trust him but im not saying anything bad about reham because islam teaches us not to beleive anything without seeing it urself. My point is that this conversation is pointless we have got bigger issues which need our attention

— Khadija Iqbal 🦋 (@KhadijaIqbal14) August 7, 2018
COMMENTS (8)
Comments are moderated and generally will be posted if they are on-topic and not abusive.
For more information, please see our Comments FAQ