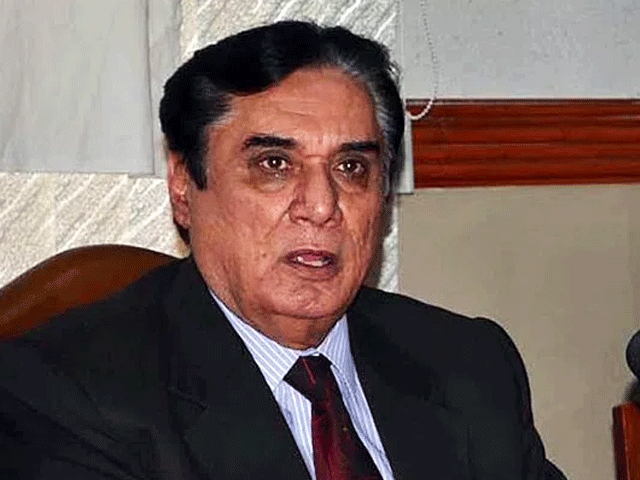 ---
LAHORE: NAB Chairperson Justice (Retd) Javed Iqbal paid a visit to the local bureau on Monday when he held meetings with officers including Lahore Director General Saleem Shahzad.

The officers briefed Iqbal over progress in the investigations of mega corruption cases, including those referred by the Supreme Court of Pakistan to NAB.

The cases included corruption in 56 companies established by Punjab Government under PML-N. The bureau will look into perks and privileges awarded to CEOs of these companies, embezzlement by vice-president National Bank of Pakistan Mall Road Branch, the inquiry against Ease Garden-9 and Agri-Tech Limited.

NAB Lahore is investigating Hammad Arshad, Gullo Beco and DHA City Lahore, fraud and looting of a large number of citizens in Khayaban-e-Amin Housing Society Lahore, loss of at least Rs3 billion due to sale and purchase of shares by the officers of Employees' Old-Age Benefits Institution (EOIB) and the Bank of Punjab (BoP).

The case against the 56 companies was initiated after complaints of embezzlements of millions of rupees, irregularities and misuse of authority. NAB, during its investigations, found startling revelations in appointments as well as perks and privileges offered to the bureaucrats deputed in these companies. All of this was in the midst of nepotism, fraud and corruption.

Some of the companies included the Punjab Saaf Pani Company, Punjab Agriculture and Meat Company, Lahore Transport Company, Lahore Waste Management Company, Lahore Parking Company, Multan Cattle Market Management Company, Punjab Livestock and Dairy Development Board and waste management companies in various cities across the province.

NAB found that the Punjab Saaf Pani Company failed to produce even a single drop of water despite millions of rupees being spent.

Besides, lucrative postings were handed to political bigwigs' relatives who had zero expertise in the field. After investigating some of the detained individuals in the case, including Raja Qamar-ul-Islam, it was found that the procured filtration plants were of substandard quality.

Apart from appointing "political VIPs", the companies reportedly did their best to appease senior bureaucrats. A report compiled by NAB stated that 62 bureaucrats of 18 companies were paid Rs800 million in salaries. The NAB chairman was told that other cases being investigated by the Lahore bureau had amounted to billions of rupees. Speaking on the occasion, Iqbal ordered officers to complete all the cases referred by the apex court in the given timeframe. "No leniency in this regard will be tolerated," he maintained.

He further stated that all mega corruption cases must be brought to their logical conclusion by gathering evidence and following the law.  Justice Iqbal said the main objective of all such exercises was to ensure that looted money is returned to the national exchequer. He instructed the participants to focus on the case instead of the faces involved. "Corruption is a curse that needs to be cured," he asserted.

The chairperson also appreciated NAB for returning Rs2,2 billion to victims who were swindled. He also commended the arrest of 300 suspect people over the span of nine months.

Published in The Express Tribune, August 7th, 2018.
COMMENTS
Comments are moderated and generally will be posted if they are on-topic and not abusive.
For more information, please see our Comments FAQ